The only thing moving faster than marketing in the tech sector is the technology itself. For marketers, engineers, designers and the managers overseeing them, understanding the marketing landscape—what's important today and what will be important tomorrow—is critical.

As a publisher delivering marketing campaigns for numerous technology companies, engineering.com is uniquely positioned to observe the trends currently dominating B2B technology marketing and forecast which nascent tactics are primed to become forces next.
We supplement this experiential understanding by running two major research reports each year: one targeted towards engineering professionals and the other aimed at the marketers serving them.
To help you either improve your own marketing activities or to help you work more effectively with your marketing team, I've taken all that I've learned from the sources mentioned above and compiled the following list of the most important trends shaping technology marketing today.
Content is King
Content marketing has sneakily taken the tactical crown in the world of B2B technology marketing. Don't believe me? Think about your LinkedIn feed and all the sponsored and organic posts for new research reports or webinars. Or take your own company's website. Notice that prominently-placed link to your company blog or resource site (if it's not there, come see me after class). Heck, this post itself is content marketing in action for what's going to be an amazing show at Liveworx 18.
And truth be told, these tactics don't seem to bother technical prospects like engineers. In fact, they seem to like all that attention in the form of content created just for them.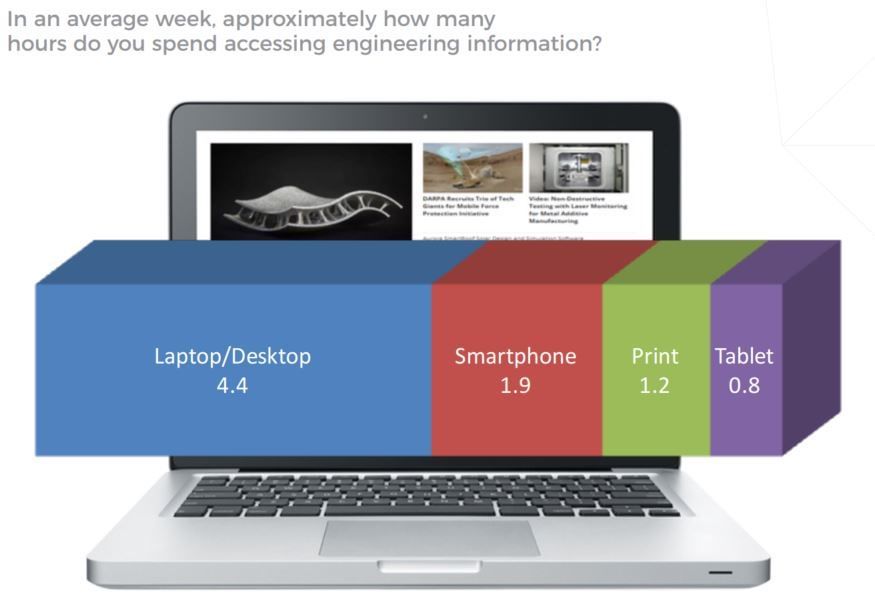 The above graph was generated from a survey of 1,187 engineers that engineering.com ran in October of 2017 as part of our research on how engineers find information. Astonishingly, it found that engineers spend 8.3 hours each week, the equivalent of a full business day, consuming engineering content.
Of course, marketers are taking notice. A separate study conducted in January 2018 of how marketers were planning to spend their 2018 budgets found that 60% of marketing budgets were being dedicated to the creation and distribution of digital marketing content.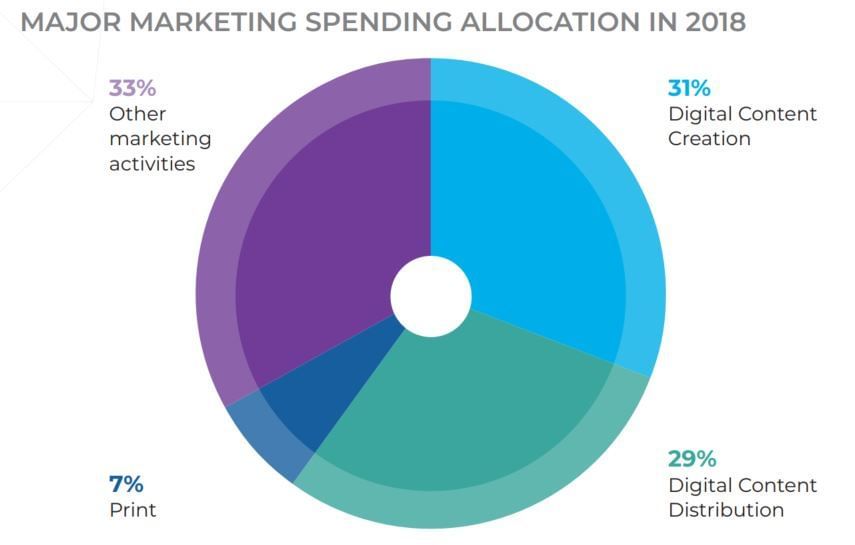 This level of investment doesn't happen unless a CFO sees results. Luckily, the investments in content are turning into desired marketing outcomes. The Content Marketing Institute's 2018 Technology Content Marketing Benchmarks, Budgets & Trends report for North America found that 81% of marketers were finding success meeting desired marketing outcomes using content marketing.
Of course, with 96% of technology marketers practicing content marketing, the competition for attention is fierce and marketers are feeling the pressure. So much so, in fact, that creating great content was the #1 cited challenge marketers are facing in 2018.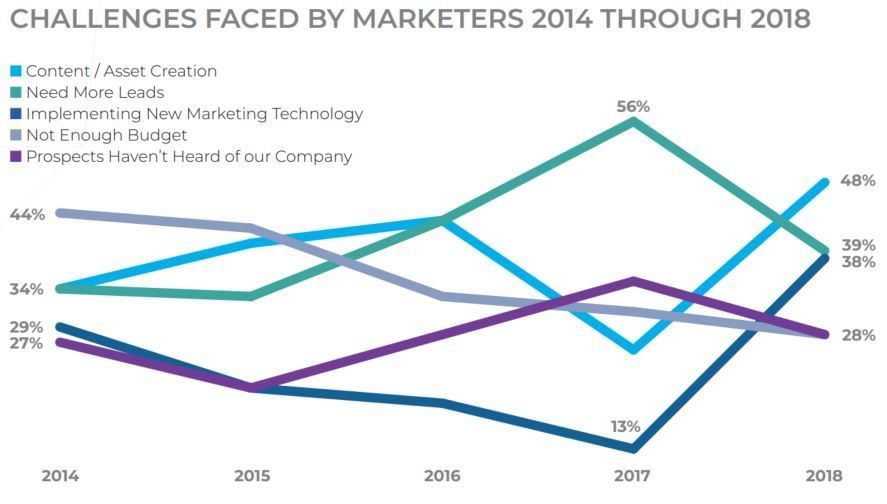 And while you might think the stress of content creation would be felt most strongly by marketers struggling to keep up with their competition, the reverse is actually true. Marketers who are drastically outperforming their competition are feeling the most pain when it comes to producing winning content. Presumably this is because they realize that in a crowded market, content needs to rise above the fold. That takes both higher investment and more time, especially if done in house.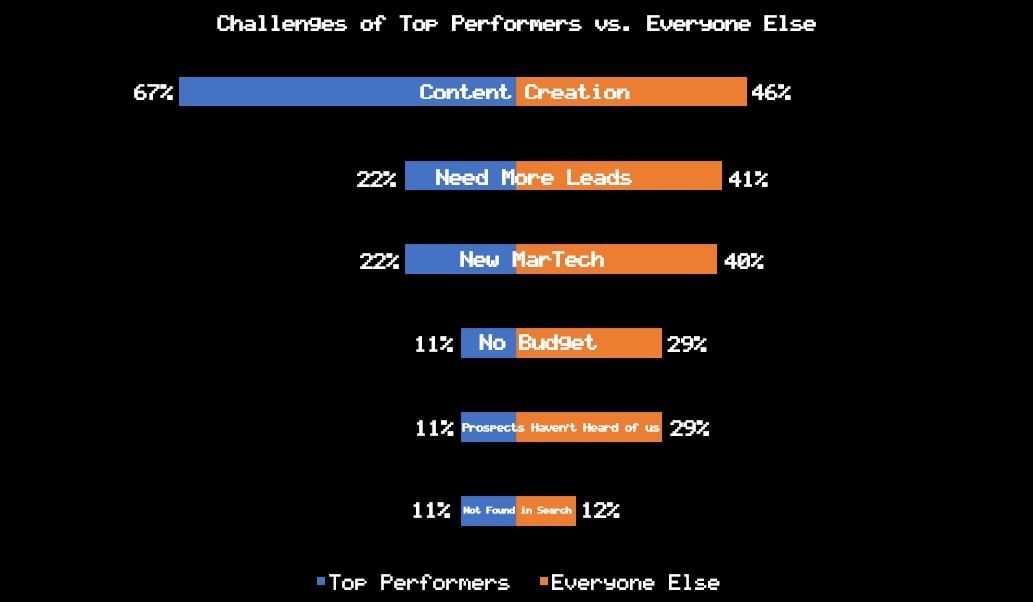 Video Has Truly Arrived
The colossus that is video content has been heralded as arriving for years on end. Four years ago, Mark Zuckerberg said Facebook would be mostly video by 2019. Two years ago, Hubspot's CEO Brian Halligan urged marketers to take video seriously, and to forego hiring writers and start hiring videographers because 50% of marketing content should be video. While the output isn't there yet, marketers have heard the message.
In 2018, technology marketers are dedicating more budget to video than any other form of marketing content.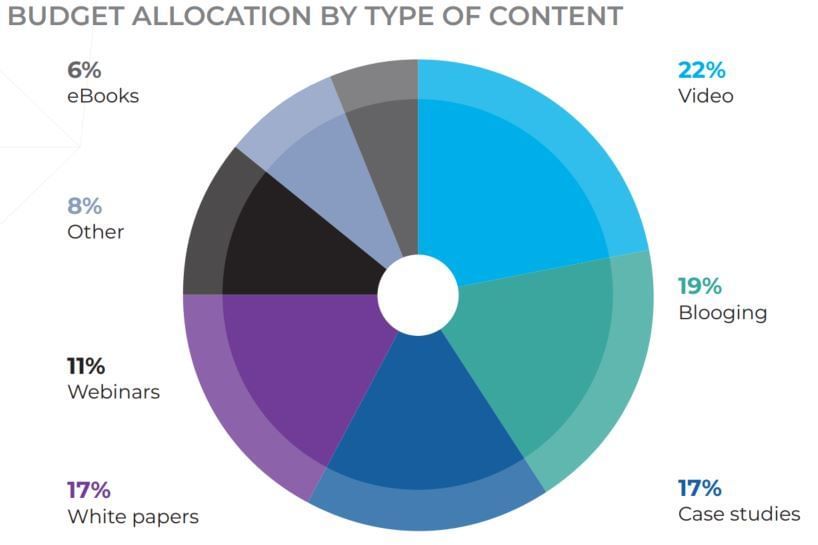 Not only is video already leading content investment in 2018, it seems to be the consensus tactic marketers think most worthy of further spending. The below graph shows the percentage of marketers who are planning on increasing their budget in a handful of the most commonly practiced marketing tactics for the years 2017 and 2018. In both years, video stood above all others.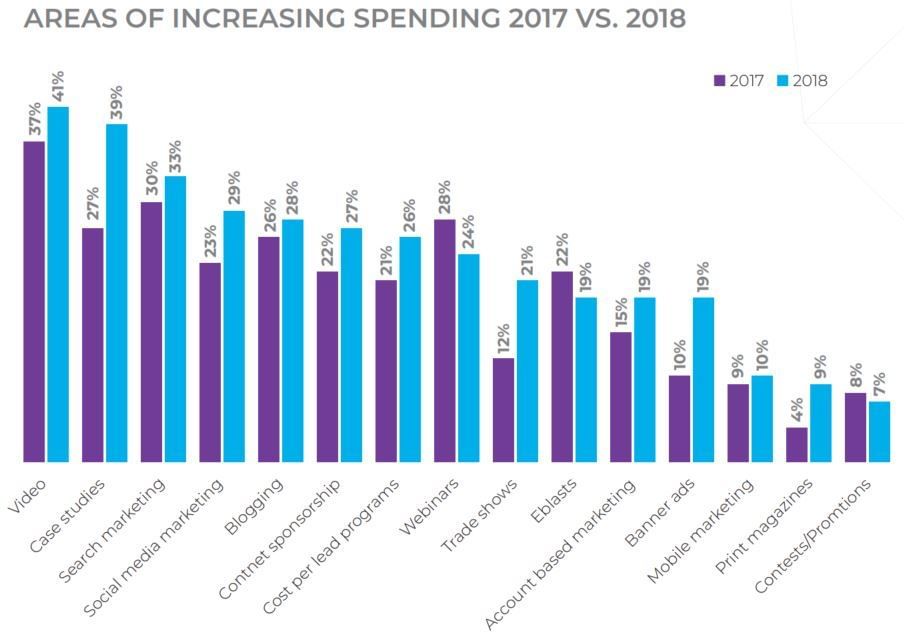 Results like this aren't surprising when you consider the numerous ways video has been shown to benefit marketing and sales activities. Here are just a few worth noting:
Video's impact on marketing will only continue to grow in the coming months and years as marketers use more video and get creative in its implementation.
One trend I'm personally very interested in is the use of personalized video as part of onboarding and lead nurturing. Both vidyard and wistia have developed easy-to-use video browser plugins that can quickly produce welcome videos.
Saying hi to new prospects with video is no joke. Martech Advisor reported click-through-rates 300% higher for emails that had video. Meanwhile, at a recent Grow With Hubspot event, Dan Tyre described email vide greetings as the most effective email marketing tactic today.
And more exciting video tactics are just around the corner, from prospect generated augmented reality video content to an explosion in live video content. For savvy marketers, video is going to be huge—and its just getting started.
Prospects Expect a Personal Touch
Personalization is all about turning B2B into B2H; that is, business to human. It's about establishing a rapport with your prospect that eventually convinces them to buy from you. And in 2018, customers expect a personal touch, making it a must for marketers. Just think about how unforgiving you were the last time you received a marketing email addressed to "Dear F. Name."
Personalization comes in many forms, but some of the most important include how you recommend information to your contacts and how you engage with them. For recommendations, marketers using content management systems should look at which pages of their site are often read together. For any contact who has recently read one of the pages but not the other, its easy to set up an email workflow to recommend the second article (or video *hint hint*).
Ensuring your automated communications are personalized is also critically important. I recently explored using machine learning to predict email success and found that the use of personalized greetings in the subject line were one of the strongest predictors of increased email open rates.
The two above examples of personalization are simple, single-action implementations, but much more sophisticated applications exist. Account Based Marketing is one field where personalization is critical to success. In the last two years, ABM has become a keen area of interest among many technology marketers.
In a case featured on the Optimizely blog, the software company Citrix built out personalized homepage experiences for 3 of its target industries. Personalizing the content and look of the site for visitors in either the healthcare, education or finance sector yielded incredible results, including:
7% decrease in bounce rates
30% increase in banner click-through
10% increase in pageviews per session.
Optimizely itself is practicing what it preaches, creating ABM campaigns directed at its prime targets. Check out this screenshot from a campaign aimed at Microsoft employees: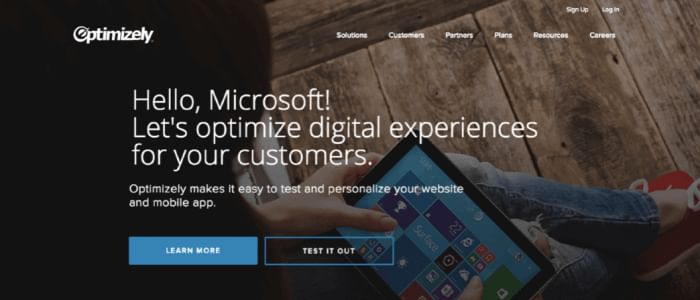 And while not technology specific, the SiriusDecisions annual report on ABM makes a strong case for its use in the B2B space. In their most recent edition from 2017, they reported:
91% of B2B companies using ABM achieved higher deal sizes
22% of marketers saw their deal close rates increase by more than 50% using ABM, while overall 91% saw some level of increase compared to baseline
60% of marketers using ABM found influenced revenue was greater or significantly greater as a result of ABM activity.
If you're interested in learning about Account Based Marketing and its use in reaching engineers in the tech space, John Hayes wrote a nice piece covering the basics.
Thanks for Reading!
That's it for the trends I'm seeing as most important to the technology marketing space.
If you enjoying this post, be sure to visit and subscribe to Digital Marketing For Engineers, our bi-weekly marketing blog that focuses on data-driven analysis of marketing in the technology and industrial sectors.
Any of the research from engineering.com cited in this post can be downloaded for free from Digital Marketing for Engineers. Click on the link that follows for our report on the content consumption habits of engineers, titled How Engineers Find Information. To learn more about how marketers are planning to spend their budgets this year, download 2018 Budget Trends in Industrial & Technology Marketing.
If you have any questions about the information presented here, or marketing to technology audiences in general, feel free to reach out to me on Linkedin or via email: amcwhaw@engineering.com. Thanks for reading!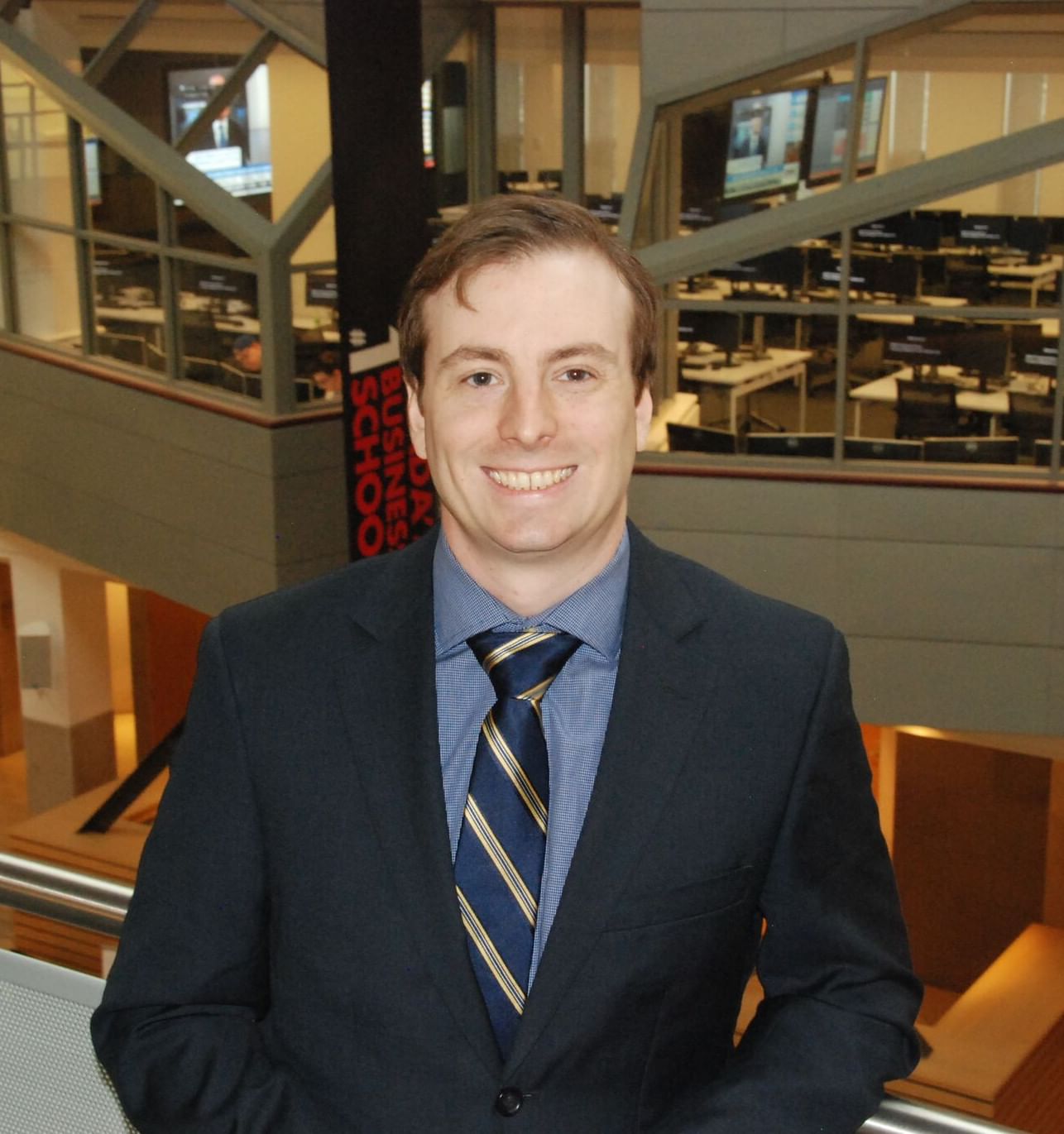 Andrew manages marketing for engineering.com, a digital trade publication for engineers with 2.3M monthly visitors. Working at the intersection of marketing and data-science, Andrew works to help engineering.com tell better stories through data. If you'd like to read more of his research on marketing to technical audiences in manufacturing, software, and engineering you can at the Digital Marketing for Engineers Blog.