Most organizations have silos of content spread out amongst databases, file shares, and one or more document management systems. Without a unified search system to tap into this information, knowledge often remains hidden and the assets employees create cannot be used to support design, manufacturing, or research objectives.
An enterprise search system that can connect these disparate content stores and provide a single search experience for users can help organizations increase operational efficiencies, enhance knowledge sharing, and ensure compliance. PTC Windchill provides a primary source for the digital product thread, but organizations often have other key systems storing valuable information. That is why it is critical to provide workers with access to associated information regardless of where it is stored.
This past August, Fishbowl released its PTC Windchill Connector for Google Cloud Search. Fishbowl developed the connector for companies needing a search solution that allows them to spend less time searching for existing information and more time developing new products and ideas. These companies need a centralized way to search their key engineering information stores, like PLM (in this case Windchill), ERP, quality database, and other legacy data systems. Google Cloud Search is Google's next generation, cloud-based enterprise search platform from which customers can search large data sets both on-premise and in the cloud while taking advantage of Google's world-class relevancy algorithms and search experience capabilities.
Connecting PTC Windchill and Google Cloud Search
Through Google Cloud Search, Google provides the power and reach of Google search to the enterprise. Fishbowl's PTC Windchill Connector for Google Cloud Search provides customers with the ability to leverage Google's industry leading technology to search PTC Windchill for Documents, CAD files, Enterprise Parts, Promotion Requests, Change Requests, and Change Notices. The PTC Windchill Connector for Google Cloud Search assigns security to all items indexed through the connector based on the default ACL configuration specified in the connector configuration. The connector allows customers to take full advantage of additional search features provided by Google Cloud Search including Facets and Spelling Suggestions just as you would expect from a Google solution.
The PTC Windchill Connector for Google Cloud Search uses Google's Cloud Search Connector SDK to feed items from Windchill to Google Cloud Search for indexing. The Connector product includes two parts—the Windchill Connector, a Java application typically installed on a server in the same datacenter where the Windchill servers are located, and a Windchill component installed on each Windchill instance you wish to index.
Connectors enable Google Cloud Search to index various third-party content management systems. Some connectors are developed by Google and included with Cloud Search, others such as Fishbowl's PTC Windchill Connector for Google Cloud Search, are developed by third parties using Google's Connector SDK framework and API set. Each connector instance runs on an external server as shown in the sample enterprise search architecture diagram below.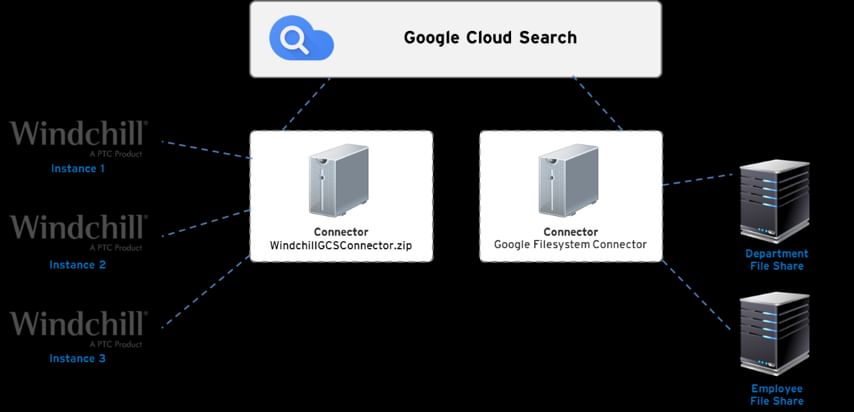 The Fishbowl PTC Windchill Connector for Google Cloud Search allows you to install as many connector instances as you like. Multiple connectors can be used to segment content by metadata, security, or function.
Those segments can be mixed and matched to serve results to users through different interfaces. The PTC Windchill Connector for Google Cloud Search can run in any environment where Java apps are supported assuming the application has access to the Windchill servers in your environment and the Internet.
Customer Success: 360 Degree View to Product and Parts Information
A multinational manufacturer of home appliances has already implemented Google Cloud Search along with Fishbowl's PTC Windchill Connector. This customer is a Google for Work organization using Google's G Suite productivity apps. Like most companies, their product development process is very iterative and collaborative. Numerous revisions of requirements documents and other collateral are typically created as team members provide feedback. Although collaboration is a critical component of the product development process, the content that results from this collaboration can be difficult to manage and ultimately find.
Product teams use Google Drive to initially store content and then at various points move the content into PTC Windchill for archiving, workflow and various other processes. However, this disconnect between systems means that employees didn't always know which systems contain the information they are looking for. This is compounded by the fact that non-Windchill users don't have access to the system, and even if they did, they typically don't know what to search for. This was resulting in a lot of one-off requests from other employees to engineering, such as marketing teams requesting product specifications, 3D models, or other renditions to be used in the marketing and sales process. The inability to easily find information across information systems was negatively impacting research and development, testing, and overall time to market.
This manufacturer enhanced its current internal search functionality with Google Cloud Search and Fishbowl's PTC Windchill Connector. Google Cloud Search provides the company's design engineers and employees across lines of business with a universal search experience, allowing them to find information across their most commonly used internal content sources. Employees are presented with a search landing page, which is preconfigured for them to search for content existing in PTC Windchill, Google Drive, internal websites, as well as for people within the organization. The search results returned are based on the security credentials of the logged in user, and the results can be filtered using facets for content source and search type. Users are also presented with metadata for each item and a thumbnail preview of the document. The goal of this customer's Google Cloud Search implementation was to increase productivity by reducing the amount of time it takes for users to find information. With the integration provided by Fishbowl's PTC Windchill Connector for Google Cloud Search, the customer now has a 360 degree view of all product information. This had made it easier for employees to extend product knowledge across departments to ultimately drive more innovation and reduce time to market from 22 months to 10 months.
About Fishbowl Solutions
Fishbowl Solutions has been a PTC Software Partner since our inception in 1999. Our partnership provides access to PTC product APIs, training, and support. Our team has decades of experience working with PTC technology. We provide a full suite of professional services centered on the PTC product set. We offer both add-on products and customizations for PTC Windchill, Creo, and ThingWorx Navigate. We are also a PTC Vuforia reseller. We have the experience and expertise to recommend the right mix of solutions and services for your next project.
---