Shop floor technicians and operators involved in assembly and other processes are at the critical, final steps in the manufacturing process. Unfortunately, these workers are often at the mercy of out of date, less than accurate paper documentation, or they need to access multiple systems to find associated parts information. These issues create bottlenecks that can impact quality and on time shipments, as well as lead to employee frustration.
The following is a summary of the problems Fishbowl Solutions has seen at customers when it comes to accessing parts information needed for assembly:
Having the design engineers create manufacturing documentation, print it, and deliver physical copies to shop floor workers
Storing associated parts information on a network drive, making it hard to find for shop floor staff but especially new workers
Quality alerts and other processes are not integral with any systems
Parts information contained within PDFs requires excessive scrolling to get to the information needed
The MPMLink viewer requires multiple clicks to get to relevant parts information
To solve these problems, Fishbowl has worked with customers to leverage PTC ThingWorx to build shop floor viewing applications that can surface up relevant information to workers in one, simple view. This application can be accessed at a computer workstation on the assembly line, and through user interface elements like buttons and a split-screen layout, shop floor workers can easily review all part information needed for assembly. The app can be launched during any step in the part assembly process, and can be triggered by an upstream assembly line process. Here is an overview of how Fishbowl's shop floor viewing application works:
A system generated event passes on the information to the shop floor viewing app, such as when painting is complete and the part is ready for assembly.
Part numbers, work orders, process plan and work cell numbers are surfaced from MPMLink or other data sources, such as a company's enterprise resource planning (ERP) system. Customers could choose to register work cell numbers derived from MPMLInk to individual work stations, making it easy to reference part assembly information for the worker at that station.
The shop floor viewing app uses the process plan number and the work cell number to present the operation that the work cell is associated to in the plan.
At their workstation, the shop floor worker receives a notification generated from Fishbowl's shop floor view application, and with one click they can access assembly instruction information - parts lists, associated documentation, quality alerts, as well as visual representations of the part with annotations. If there is more than one image for the part, the user can view them using a presentation slider. If no quality alerts exist for the part, that button will not appear during the user session.
Here are some sample screenshots of Fishbowl's shop floor viewing application: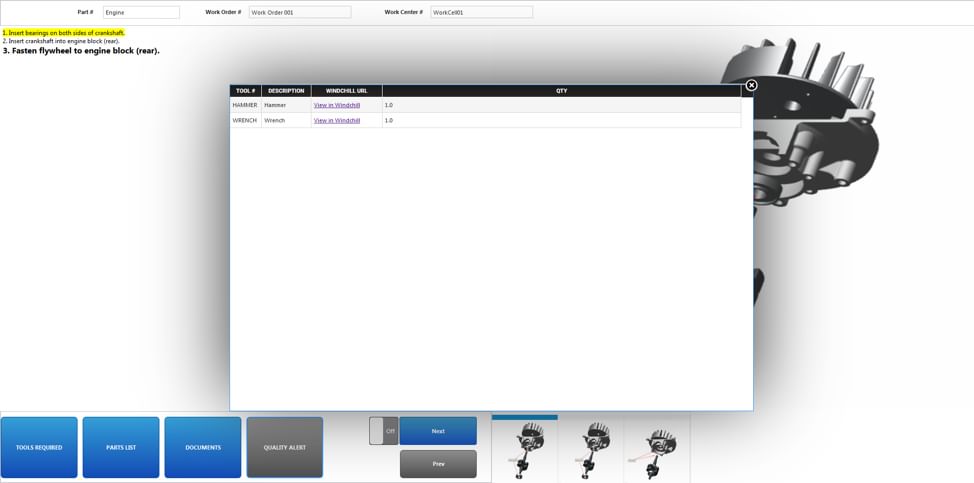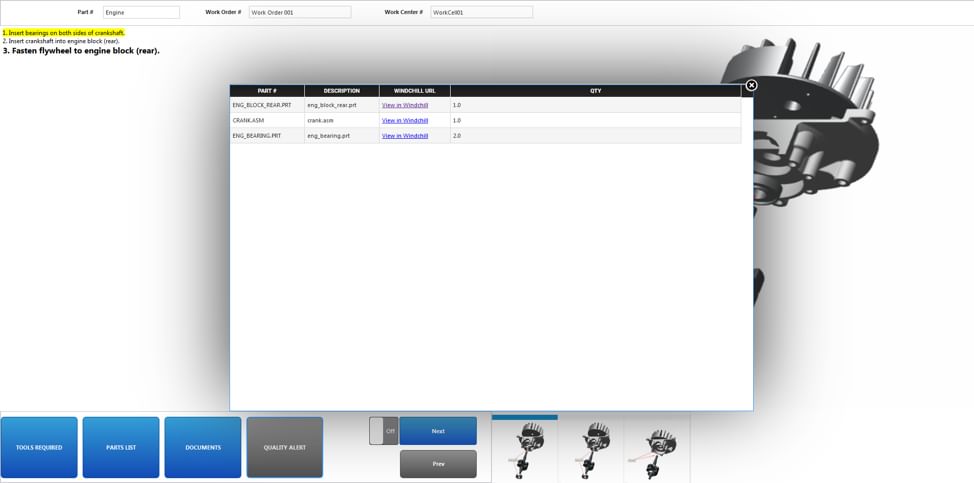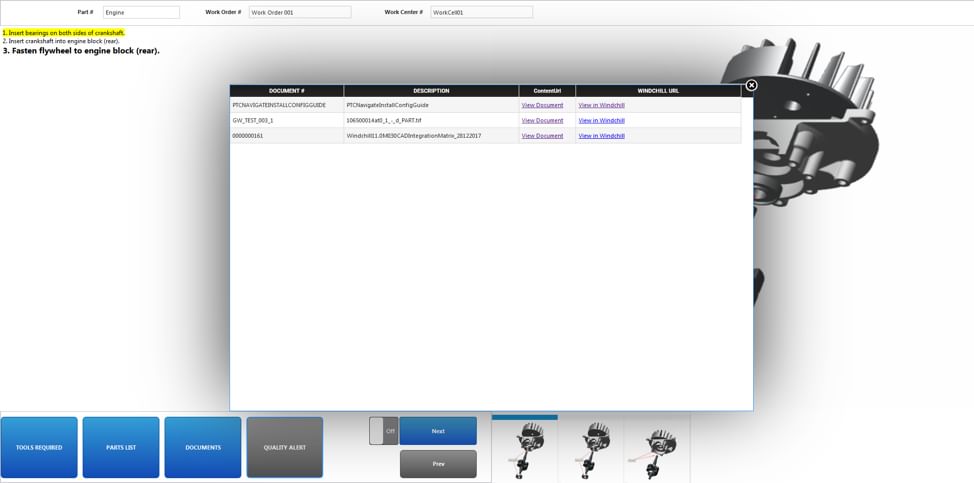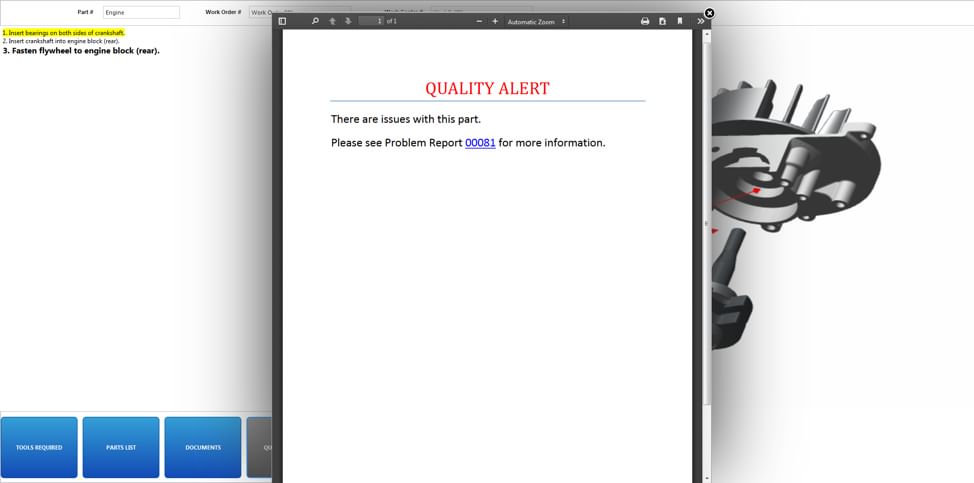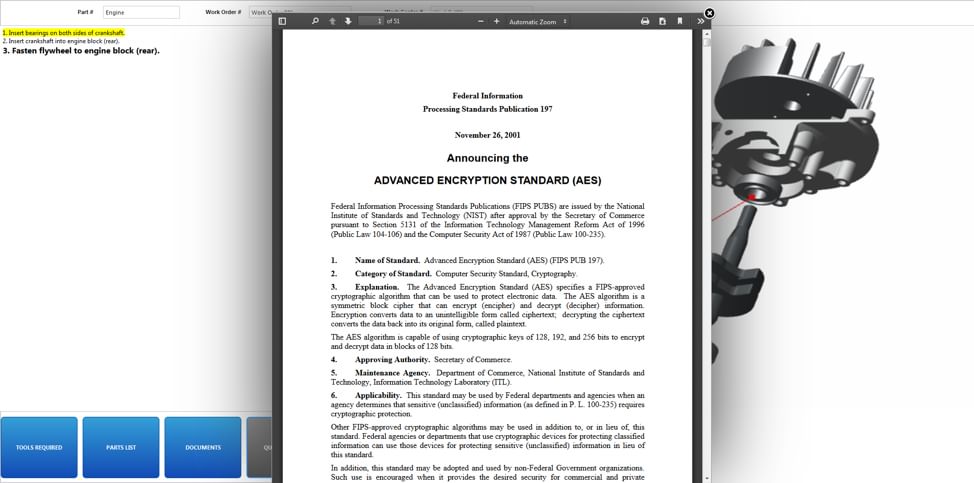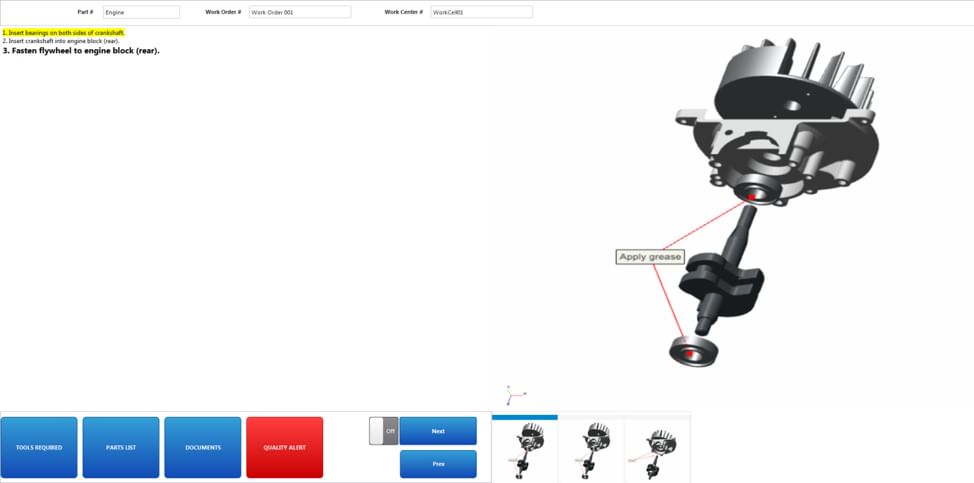 Here is a benefit summary of using a shop floor viewing application like the one described above:
Increased parts assembly and shipment accuracy: Combining part information data from MPMLink and ERP systems ensures that everything shop floor workers need to assemble parts and fulfill customer orders can be accessed in one view and is accurate.
Improve takt (cycle) time: Because shop floor workers won't be waiting around for revisions to paper documentation, or having to access multiple systems to view associated parts information, part assembly time will be reduced.
Less process administration – more value-add work: Design engineers can focus more on designing and less on creating manufacturing documentation and administering how parts information gets delivered and can be accessed by shop floor workers.
PTC ThingWorx Navigate provides a powerful yet developer friendly platform to collect, contextualize, and deliver parts information when, where, and how it is needed. Using it to build applications like Fishbowl's shop floor viewing application will benefit workers on the assembly line and anyone involved in the manufacturing process, as they will have better visibility into part and process information.

About Fishbowl Solutions
Fishbowl Solutions has been a PTC Software Partner since our inception in 1999. Our partnership provides access to PTC product APIs, training, and support. Our team has decades of experience working with PTC technology. We provide a full suite of professional services centered on the PTC product set. We offer both add-on products and customizations for PTC Windchill, Creo, and ThingWorx Navigate. We are also a PTC Vuforia reseller. We have the experience and expertise to recommend the right mix of solutions and services for your next project.
---