The ability to accurately track aircraft parts and systems while performing aircraft maintenance is a prerequisite when using augmented reality applications. This is even more essential for military combat aircraft, where space has been optimized to allow the integration of a large number of systems into a very tight and crowded space. Systems and connectors lay behind other systems which are all hidden behind various access panels. Also, the very large size of modern combat aircraft poses additional problems with maintaining stable tracking on the aircraft and its systems.
Military aircraft are not good candidates for attaching markers, as they normally may not be attached to the aircraft body, and traditional markerless tracking tends to lose lock or drift as you move around the aircraft.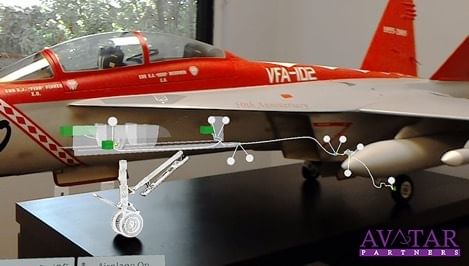 Solution
By using the new Vuforia Model Targets feature AVATAR has been able to lock onto and maintain highly stable tracking on primary locations of the aircraft. AVATAR chose the nose landing gear assembly as the primary target for proof of concept as it is usually visible as maintenance personnel approach the aircraft and it is located just below several systems we would be using for the demonstration.
To expedite development, AVATAR started with the nose landing gear assembly on a large scale (6:1) F/A-18 F model aircraft. This model allowed us to refine our application without having to go to the flight-line for testing as we made changes and adjustments to the program. AVATAR developed a CAD model of the nose landing gear in which Vuforia provided a firm lock on target that did not drift as the user moves about the aircraft from side to side and both above and below.
When troubleshooting items such as cabling/wiring and hydraulic systems, it is often necessary to remove equipment in front of the connector that is needed to perform the test, which necessitates bringing additional equipment specialists out to the aircraft to remove, reinstall and test these items. This causes delays and additional wear and tear on equipment.
The proof of concept performs a wire tracing and testing function that replicates the procedures of the maintenance manuals in augmented reality, highlighting all panels which needed to be opened for each consecutive step in the procedure, as well as which connectors and pins to be used in the testing. Systems and assemblies which also require removal are highlighted with attention to performing the least disruptive sequence for the testing process to limit wear and tear on the parts, and to limit the need to call in other personnel to remove their systems.
An added benefit of developing from this model is the ability to generate a 3D digital image of the entire aircraft that locks onto a 3D printed replica of the nose landing gear assembly. This allows for the demonstration of the wire tracing application without the need for having the 9 ft aircraft model or an actual F/A-18 aircraft present for the demonstration.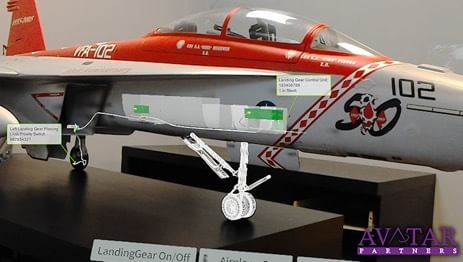 Results
By using this technology the training time needed for maintenance personel is reduced, the effectiveness of training is increased, the costs for expensive and difficult to transport training material are reduced. Additional benefits include faster repair time that leads to reducing the aircraft downtime and significant cost savings.
The Vuforia Model Targets technology will have multiple applications as we develop further maintenance, job aids, and training applications for the military. For more information, please contact Marlo Brooke, Founder and President at mbrooke@avatarpartners.com.
Copyright © AVATAR Partners, Inc. 2017

Register for LiveWorx 18 to experience the latest disruptive technologies first-hand and advance your business knowledge. Sign up to be a LiveWorx Insider to get all the latest news and happenings!