To create a system in which your PLM and engineering team work in harmony, your company needs a better solution.
---
If you are a manufacturer or an engineering team, you've probably got a mess on your hands.
Most likely, your engineering team is swimming head-first in the digital garbage bin – the Internet – rather than your internal repository of approved parts. They're hunting for parts outside of every PLM and ERP rule set your company has set-up in order the meet the increasing demand.
Their current process is neither fast nor efficient, and it's creating an even larger problem for the Engineering department, as well as Purchasing and Manufacturing. Let's look at what's going on in the industry today: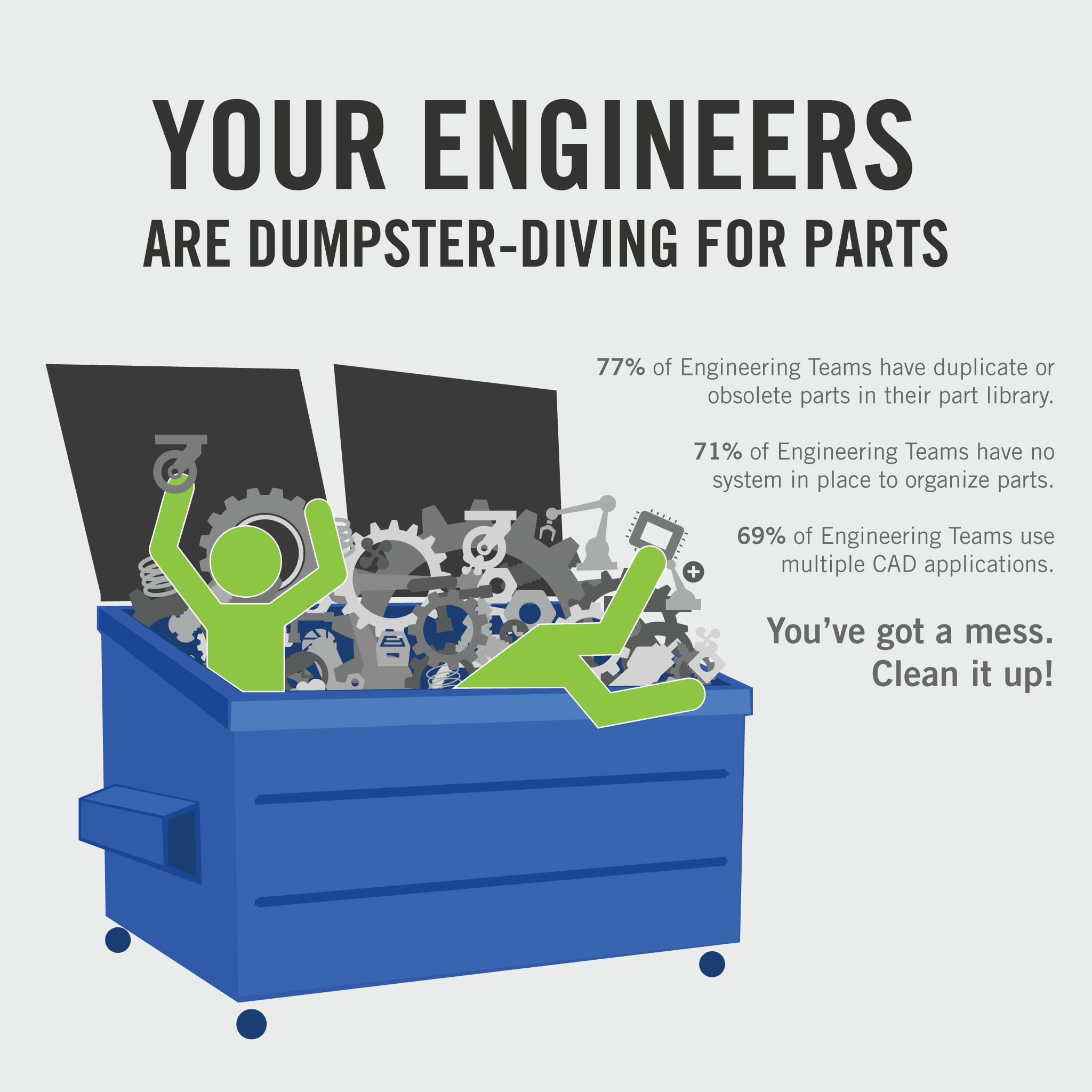 71% of Engineering Teams Have No System in Place to Organize Their Parts
When an engineer needs to add a part to this assembly, the first place they look is their internal parts library ― if their organization has one. This internal repository is often called the "PLM" or the "Vault." Sometimes, an organization's PLM is nothing more than a shared folder on the engineering server.
Having one of these systems in place is a great first-step to providing engineers with the parts they need. However, this is not often the case.
A whopping 71% of engineering teams have no system in place to organize their digital parts, according to the most recent Engineering Efficiency Report. That means engineers are searching for parts on the Internet and spec-ing any part they want into their design.
69% of Engineering Teams Use Multiple CAD Applications
Although some engineering teams do have a system to organize their digital parts, a shared PLM system isn't a cure-all. Nearly 70% of organizations use multiple non-compatible CAD applications, meaning they actually need multiple certified models of every part to properly meet their needs.
Without interoperability, an engineer can search his PLM system for the component he needs, find it and not be able to fit it into his design because it's the wrong CAD format.
The part is completely useless to the engineer, so what does he do? He goes out to the internet and grabs the first thing that will fit, regardless of who modeled the part or where it came from. This creates a fragmented environment and fills libraries of unusable data.
77% of Engineering Teams Have Duplicate or Obsolete Parts in Their Part Library
Some companies have a system in place to organize their digital parts AND a complete library of parts to accommodate all their CAD applications. That's great! However, problems still occur when the engineer exports the bill of materials (BOM) for the purchasing department.
Over three-quarters of engineering teams have duplicate or obsolete parts in their PLM.
These digital parts were properly vetted and reviewed originally. But due to several factors, the parts are now useless to engineering, purchasing and manufacturing. Where does engineers go to get a quick replacement? You guessed it: The Internet, aka the Dumpster of Parts.
Your Solution: Strategic Parts Management to Complement Your PLM System
Having a PLM system to store and organize all your digital parts is an essential first step, but to create a system in which your PLM and engineering team work in harmony, companies need a better solution.
Using Strategic Parts Management from CADENAS PARTsolutions, an engineer can quickly find a part in his proper CAD format (which was already approved by his purchasing department), launch it into his design and moved onto the next engineering challenge. This creates leaner engineering processes throughout your engineering, purchasing and manufacturing teams while reducing the cost of engineering waste.
Strategic Parts Management also comes with TRILLIONS of manufacturer-certified, digital parts. These digital assets, from more than 600 manufacturers, can be instantly configured, deployed and checked-into the PLM environment.
No-more engineers working outside the rules. Take them from the dumpster and into future, with Strategic Parts Management.

Register for LiveWorx 18 to learn more about PLM technologies to boost your knowledge. Sign up to be a LiveWorx Insider to get all the latest news and happenings!
---