At LiveWorx, we like to keep our attendees' energy levels up by serving a healthy breakfast and lunch (not to mention coffee breaks/snacks during the day). Best of all, meals, breaks and networking activities are included with your Pass!
Here's your handy guide to what you'll find at meal times at LiveWorx.
Tuesday, June 11
Breakfast: 7:30 - 8:30am in Xtropolis
Breakfast Tacos
Assorted Flavored Smoothies
Assorted Bagels and Local Spreads
Bananas
Coffee/Tea
Lunch: 11:30am - 1:00pm Food Trucks adjacent to Lawn on D, including:
1. Bon Me - BBQ pork sandwich or brown rice bowl with chicken
2. The Chubby Chickpea - Falafel plate or chicken schwarma plate
3. Moyzilla - Japanese chicken meal box
4. The Dining Car - Goat cheese sandwich or carnitas torta sandwich
5. Roxy's Grilled Cheese - Classic grilled cheese or with bacon
6. Teri Yummy - Chicken teriyaki plate
7. Taco Party - Tofu or lentil tacos; tortilla chips and pinto dip
8. Gogi on the Block - Rice bowl with pork or chicken
9. Shuck Chuck - Fish & chips
10. The Bacon Truck - Cuban sandwich
11. Sweet Tomatoes - Pesto or classic cheese pizza
12. Northeast of the Border - Poblano or pork tacos; chips & salsa
13. Bonetown - Cheese steak sub
14. Chicken and Rice Guys - Grilled chicken with rice, pita, sauce
15. Papi's Stuffed Sopapillas - Braised buffalo chicken sopapillas
16. Sate Grill - Beef or red curry chicken rice bowls and spring roll
17. Pennypackers - Pork roast on ciabatta roll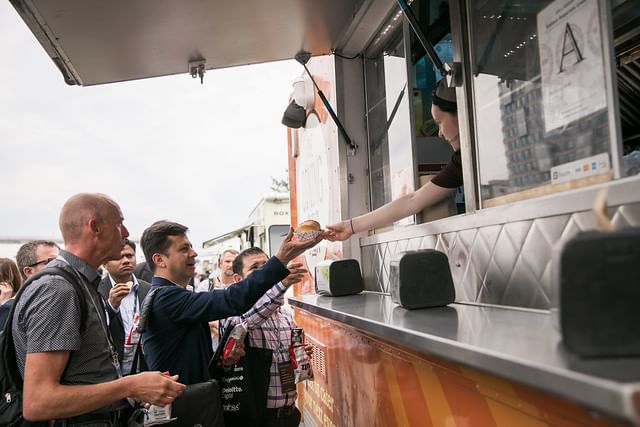 Wednesday, June 12
Breakfast: 7:30 - 8:30am in Xtropolis
Egg White & Spinach English Muffin Sandwich
Waffle Shooter
Oatmeal
Bananas
Coffee/Tea
Lunch: 11:30am - 1:30 pm in Xtropolis
Ramen Bar with Vegetables
Beef Bourguignonne
Chana Masala on Basmati Rice with Tomato Salad
Saffron Chicken with Lentil Rice and Tzatziki
Mac N' Cheese
Coffee/Tea
Assorted Sodas
Thursday, June 13
Breakfast: 7:30 - 8:30am in Xtropolis
Egg Frittata
Quinoa Bowl with Harvest Grains, Spinach and Egg White Scramble
Breakfast Tea Sandwiches
Bananas
Coffee/Tea
Lunch: 11:45am - 12:45pm in BCEC breakout room hallways
Picnic boxed lunch - Cold Fried Chicken or Turkey Club or Fire Roasted Vegetable Wrap with Tabbouleh Salad, Potato Salad and Strawberry Shortcake
Assorted Sodas
Even though your days at LiveWorx are jam-packed with content and networking, don't forget to stop and re-fuel!
---