If you're in the retail, footwear, apparel & consumer products business, LiveWorx, PTC's premier annual event hosted in Boston, MA May 15-18 is a can't miss opportunity to learn the latest in tech and create valuable relationships with your industry peers. LiveWorx is retail's most important four-day conference providing attendees with an unparalleled view into how PTC is helping brands and retailers across the globe to drive competitiveness and succeed in today's rapidly changing marketplace through the use of PTC technologies and digital transformation.

PTC's FlexPLM Retail Business Unit will have a dedicated presence in Xtropolis, LiveWorx's world-class event expo hall, as well as a focused schedule of FlexPLM breakout sessions covering the latest industry developments, so you'll have plenty of chances to learn, connect, and network with our brand and retail customers from around the globe! Below are some of the industry topics and content sessions you can expect on site: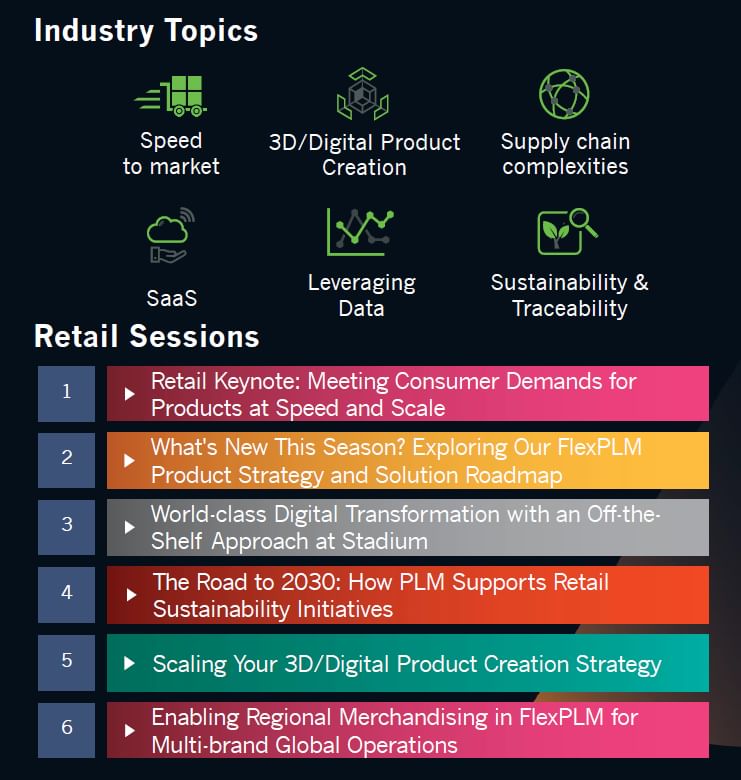 Want to get insight from other industries? Check out the full list of content offerings at the event inclusive of 215 breakout sessions, complimentary PTC Product Trainings, and opportunities to give direct feedback in hundreds of UX Labs.
In addition to thought leadership and product demonstrations, LiveWorx creates opportunities to network and have some fun! All Access Pass holders can attend the Opening Reception & Welcome Party on Monday May 15th at 5pm. A special Retail Reception and Tech Meet Up will be hosted on Tuesday, May 16th at 6pm at local Boston restaurant, Temazcal. On Thursday, May 17th LiveWorx will be providing in-person attendees with an exclusive concert for the first time ever featuring country music star Dierks Bentley!
We're also thrilled to announce that the next in-person FlexPLM PTC/USER Technical Committee (TC) will be taking place at LiveWorx 2023. There will be two sessions on Wednesday, May 17th (1pm-3:30pm) and on Thursday, May 18th (10am-12pm). Please refer to the TC website for agenda topics.
The TC will be for in-person LiveWorx attendees only with no option to join virtually and you must be a registered member of the Technical Committee. To

attend the Technical Committee at LiveWorx, please
complete this form.
LiveWorx is the place to get a year's worth of education, networking, and insight into the future of PTC's suite of solutions all in one place. Don't miss out
---