Leading global companies have discussed with us, the approach of digital continuity across engineering and manufacturing as a competitive strategy - leveraging digital assets consistently from concept to service models. In engineering intensive sectors like automotive, off-highway vehicles and industrial equipment that require more than 500 product development engineers today, the benefits of Digital Engineering can save over USD 20 million per year from concept to production. Through trimming rework and enabling productivity gains, organizations can start a new program with the same capacity or fund a new business initiative with the savings. Companies that we work with are lining up plans to gain improvements of 100s of millions of dollars by implementing more disciplined DIGITAL ENGINEERING and MANUFACTURING approaches.
Manufacturing today is driven by a range of transformative forces. The transformation is not only from a technology perspective but also from the business. From a technology perspective – IoT, additive manufacturing, digital twins, AI, augmented and virtual reality are molding the traditional manufacturing sectors. Systems closely associated with this such as PLM are also undergoing rapid evolution. PLM today is more an innovation platform that can bolster the digital thread and is being influenced by trends such as cloud, Industry 4.0, analytics, customer experience, ALM and digital twin.
Engineering Has Been DIGITAL for Awhile
Use of digital technologies is not new in engineering and product development. What is new, however, is that product development organizations need to integrate their product development, manufacturing and product launches from an all-digital perspective leveraging smarter technologies, more useful data and better insights. The product development process needs to shift to a more holistic digital mindset that overcomes silo mentalities and visualizes interdependencies throughout the product cycle.
The varying maturity of digital technologies adopted in each phase and the varying instances in time when a phase in the product lifecycle is digitized has led to incomplete digital continuity. Significant inefficiencies in the process or rather significant opportunities to make a material improvement in the ER&D process can be realized through adoption of a Digital Engineering vision.
DIGITAL Engineering is about the Business
There are three very prominent macro factors influencing engineering operations: new markets, engineering skills and new competition. These factors add a lot of pressure on engineering organizations as they grapple with engineering and design change demands coming from various downstream stages of product development. With our expertise on PTC technologies, Capgemini has built solutions for specific stages of the product lifecycle. And our engineering domain expertise enables us to converge and integrate the technologies for end-to-end digital continuity.
With our Smart Engineering expertise, we transform core product engineering with next generation technologies. With our Digital Manufacturing capabilities, we transform manufacturing by creating smart, secured and agile factories. And we enable 'servitization' by harnessing the power of IoT for Connected Products and digital platforms around products.
Our digital continuity approach helps address some of the common challenges in BOM management. The BOM evolution from CAD to EBOM – MBOM – PBOM – SBOM, through the design to service lifecycle can be managed efficiently through data, application and process integration. Adoption of immersive technologies further improves the consumption of engineering data in the later states of the product lifecycle like in manufacturing operations and product service.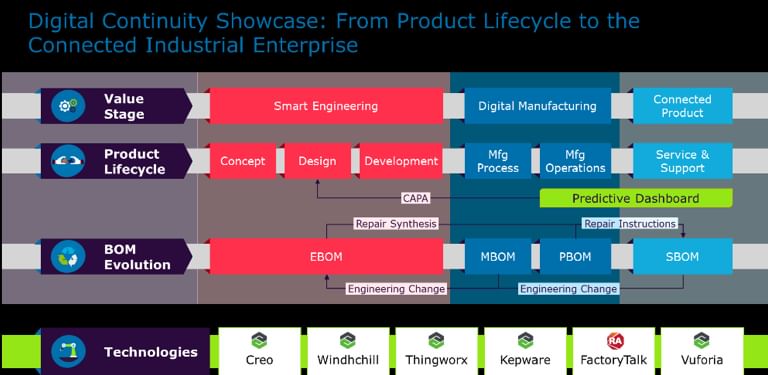 We have worked with PTC and common partners like Rockwell Automation to enable digital engineering and manufacturing benefits for clients. Creo, Windchill, Thingworx, Windchill MPMLink, Kepware, FactoryTalk (from Rockwell Automation) and Vuforia are being leveraged by our global teams to realize the promise of digital engineering and Industry 4.0. PLM commonly serves as the digital backbone for the processes and managing product data for simulation, 3D work instructions, service configurations and IoT data. This backbone enables robust engineering analytics from system data and product data, improving the effectiveness of processes like CAPA and Engineering Change Management.
With Digital Engineering, organizations can reduce time to market, cut down design changes, and reduce manufacturing planning time. With Digital Manufacturing, production throughput is increased, and overall production costs are reduced. The goal is a better stakeholder experience for product and business success.
Author: VIVEK KOTRU (Twitter: @vivekkotru) VIVEK is the Marketing Head for Capgemini's Digital Engineering and Manufacturing Services. Capgemini brings together deep domain expertise to lead the convergence of Physical and Digital worlds through technology, engineering and manufacturing expertise to boost our clients' competitiveness. Consulting, technology and assets led solutions enable global companies to unlock the true potential of their product portfolios and manufacturing efficiencies.
---