Infosys Limited, an Indian multinational with over $13 billion in revenues and almost 250,000 employees, is a global leader in next-generation digital services and consulting. They empower over 1500 clients across 45 countries, to navigate their digital transformation. As they guide their clients through their digital journey, they have observed the need for resilient networks, a digitally connected workforce, and smart connected products, to reorient their production pipelines and enable faster time to market. Infosys Engineering Services offers a wide spectrum of capabilities covering the complete lifecycle of product and platform development. It responds in real-time to customer needs and offers competitive technology solutions that focus on margin improvements.
Digital Thread: A Strategic Imperative For All Organizations Today
Industry 4.0 has transformed production operations for manufacturing organizations by connecting industrial assets, processes, people, and systems and by utilizing insights from real-time analytics to drive ROI-based business decisions and goals.
One of the most comprehensive solutions towards digitizing production operations is the setup of a digital thread that enables horizontal and vertical integration across the product lifecycle and ISA-95 manufacturing stack, respectively. Almost 30% of companies have made strides in implementing a digital thread across the enterprise, while about 7% have digital thread solutions in which engineering changes integrate automatically with downstream manufacturing (Source: I BASE t Digital Thread Readiness Survey)
What Is A Digital Thread?
A product lifecycle comprises a series of stages from ideation to after-sales service to end-of-life, and this multi-staged lifecycle extends across several actors, machines, and systems. A digital thread establishes a single source of truth, connecting machines, data, processes, people, and systems, exploiting IoT and other digital technologies, thereby establishing traceability across this product lifecycle, from "As-Designed", "As-Manufactured", "As-Operated" to "As-Serviced". While this traceability is maintained, the digital thread connects both the assets and the processes that were used to manufacture the end products.
Infosys has broken down the digital thread into three key areas viz:
Design to Engineering: enables the democratization of engineering data and collaborative design and engineering across teams, from concept ideation to industrialization, ensuring product traceability and compliance to regulatory needs and organization standards.
Engineering to Manufacturing: enabled by agile, closed-loop manufacturing achieved through transparency of data across supply chain partners and continuous feedback and improvement.
After Market Services: enables servitization that adapts the business model by facilitating proactive servicing through predictive models' direct access to customer and closed-loop product improvement through market insights.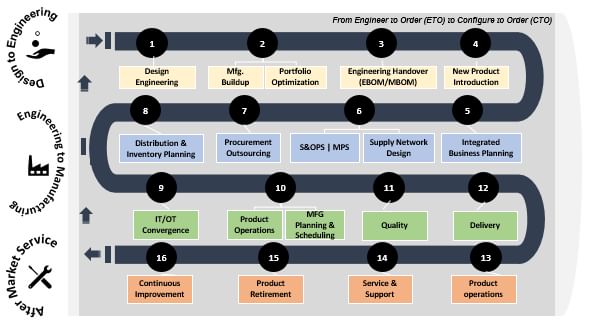 Recently, Infosys set up a digital thread for a heavy electrical manufacturing organization connecting its engineering, PLM, ERP, and manufacturing systems and enabling them to transform from a highly Engineer to Order (ETO) to a predominantly Configure to Order (CTO) business model. With 95% of ETO products converted to CTOs, the lead time for Configure to Delivery for product variants reduced from 28 days to a mere eight days.
How To Embark On A Digital Thread Journey:
Infosys has created a four-pronged approach to enable their customers to achieve a digital thread in a scalable, agile, and cost-effective manner, viz:
Value-stream driven digitization – identifying gaps and bringing in digital solutions to create value-based solutions to enable "design-manufacture-sell-service anywhere and anytime".
Bringing in automation and integration – AI-ML powered automation enabling Live, Connected, and Integrated Industrial Operations.
Legacy modernization – refresh hardware, network, plant software, and OT systems to enable digital solution implementation.
Cloudification – leverage resilient cloud systems and As a Service model economy to build a connected enterprise with digital thread at its core
Engineering Cloud:
Infosys can take organizations on their digitization journey, enabling a digital thread by navigating them from on-premise siloed systems to a structured resilient cloud ecosystem. The cloud engineering market size is expected to grow to USD 13.43 billion by 2022, with a 23.2% CAGR over the last seven years (source: marketsandmarkets.com), while Gartner predicts worldwide end-user spending on public cloud services to be more than USD 300 billion. To expedite the customer cloud journey, they have built several references and pre-configured engineering solutions on their polycloud platform, Engineering Cobalt.
Engineering Cobalt brings together a set of services, solutions, and platforms for enterprises to accelerate their cloud journey. It has a repository of over 100 ready-to-deploy cloud assets comprising pre-configured industry vertical IP solutions, pre-built libraries and tools, accelerators, cloud platforms, and reference documents. Infosys has solutions like:
Infosys Engineering Digital Accelerator (iEDA) to facilitate the launch of a product from concept to market by creating a knowledge repository that handles data collaboration, traceability, and regulatory compliance.
Digital Factory Accelerator solution, including use cases like asset optimization, real-time connectivity, energy efficiency, and digital quality control.
Creating a Live Enterprise – Implementing A Digital Thread On The Cloud
Infosys combines the threads of engineering cloud and digital thread through a Live, Connected and Digital Industrial Operations Command Center, built with cloud-native microservices and IT-OT-ET Convergence (ET-Engineering Technology) across systems. Their solution is aligned to the Infosys Live Enterprise framework with AI-ML-powered automation, cybersecurity, and DevSecOps. It essentially brings an end-to-end orchestration of production operations with a pro-active sentient approach to problem identification to closed-loop control.
To conclude, what they have witnessed is that investment in a digital thread and the cloud delivers a superior ROI for our customers:
Achieving higher efficiencies like OEE, asset utilization, waste reduction, product lifecycle traceability.
Positively impacting the overall product and customer experiences like product or service hyper-personalization, time to market, and user experience enables outcome-driven business models between the various partners in the eco-system thus enabling accountability and a higher level of efficiency and collaboration in the value chain.
Learn more about the Digital Thread and Engineering in Episode Two of LiveWorx 2021: The Limited Series, now on-demand!

---