We believe that digital transformation can be a solution to a better and more sustainable world. We trust our world needs positive change. Every transformation offers an opportunity for improvement. That's why the world of today depends on doers with a bold vision for the world of tomorrow. Together with our customers and partners, we have a shared desire to make this sustainable world a reality.
Our aim is to use cutting-edge technology to track every aspect of a product's lifecycle, from the sourcing of raw materials to its eventual disposal. By doing so, we hope to identify areas where waste can be reduced, energy consumption can be optimized, and emissions can be minimized.
Sustainable KPIs
In today's world, businesses are increasingly concerned about sustainability and the impact of their operations on the environment. One of the key areas where companies can make a difference is by optimizing production to minimize environmental footprint.
These involve, among others:
C02 emission in a more holistic approach.
Product environmental impact​.
Substances of concern and environmental regulations​.
Product circularity aspects (material selection, material reuse)​.
To meet the SDG (Sustainable Development Goals) companies can turn to PLM software, which helps manage the entire lifecycle of a product from design and development to manufacturing and disposal. It optimizes production lines by providing visibility into different stages of production and enabling data-driven decision-making.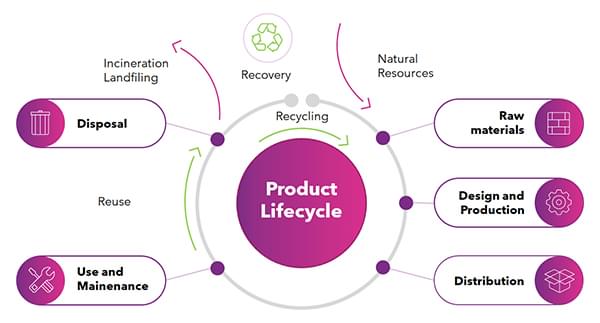 The different phases of a product's life, from conception to disposal, involve various entities, equipment, and mechanisms. The product's journey is multi-layered and involves many stages, including after-sales support. By utilizing IoT, AR, and other digital tools, a digital thread can create a centralized, reliable source of information that links data, equipment, procedures, individuals, and systems. This digital thread ensures accountability throughout the product's lifespan from its initial design to manufacture, operation, and servicing. Additionally, it connects both the assets and the processes that were utilized to produce the final product, ensuring complete traceability.
Green PLM - a sustainable product development
Around 80% of a product's environmental impact is determined at the design stage. It is easier, faster, and cheaper to consciously design eco-friendly, green products than iteratively improve them and try to make them "green" as the project progresses​.
GreenPLM is a framework that caters to the increasing need for eco-friendly products by enabling the assessment of a product's environmental impact during its initial stages of development. It facilitates the integration of eco-design principles into the product design process. It's an ideal solution for companies looking to enhance their sustainability and meet the evolving market demands for environmentally responsible products.
Green PLM helps manufacturers to:
Define the environmental targets.
Integrate eco-design principles into the product development process by assignment of human activities to parts in the entire life cycle.
Achieve product circularity and calculate its environmental impact in the early stages of its life cycle.
By utilizing the Digital Thread concept, all product information is linked and monitored across a company's various IT systems, resulting in more efficient workflows. The Industrial Internet of Things enables manufacturers to monitor and predict potential machine problems, while Augmented Reality facilitates the remote maintenance of machines and devices using information from the PLM system. Artificial intelligence can also be leveraged to optimize and automate processes.
Overall, Green PLM serves as a suitable solution for sustainable production, complementing these efforts.
Join us at LiveWorx 2023
We hope that the above information has aroused your curiosity. Learn more by visiting us at boot 704 at LiveWorx 2023. See you there!
---