Infosys Limited, an Indian multinational with over $13 billion in revenues and almost 250,000 employees, is a global leader in next-generation digital services and consulting. They empower over 1500 clients across 45 countries, to navigate their digital transformation. As they guide their clients through their digital journey, Infosys has observed the need for resilient networks, a digitally connected workforce, and smart connected products, to reorient their production pipelines and enable faster time to market. Infosys Engineering Services offers a wide spectrum of capabilities covering the complete lifecycle of product and platform development. It responds in real-time to customer needs and offers competitive technology solutions that focus on margin improvements. Internet of Things (IoT) is an integral part of engineering services, forming an ecosystem that leverages our core engineering expertise. Offering solutions across the value chain from sensors to insights, they assist enterprises in developing smart and connected products, processes, and infrastructure that delivers enhanced competitive advantage, increased operational efficiencies, and improved quality to achieve greater revenue synergies.

Enabling Enterprises With Their Digital Transformation Journey
The power of industrial IoT solutions can be unleashed when they are designed to accelerate and amplify targeted key outcomes. The solutions can enable enterprises to transform into a Live Enterprise, through:
Engaging customers in new ways
Creating resilient supply chains
Building agile factories
Unlocking innovation, delivering new services
Transforming workforce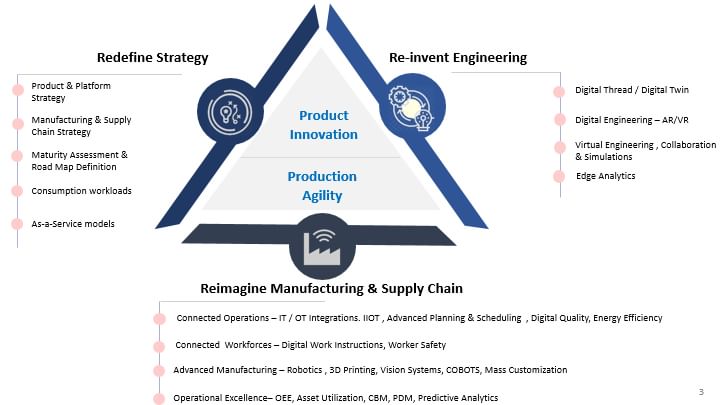 Infosys has transformed digital manufacturing from real-time monitoring to predictive to autonomous through machine connectivity, pervasive intelligence, and automation solutions. The solutions cover four areas:
Digital Production Execution: Dynamic scheduling capabilities in the shop floor to increase efficiency, reduce idle time and cost of inventory, accelerate time to market and meet customer demands, e.g., intelligent scheduling, energy management, and forecast, in-process quality control, digital thread.
Digital Asset Optimization: Real-time monitoring, descriptive, diagnostic, predictive, and prescriptive analytics into asset health and performance to maximize asset utilization, e.g., asset digital twin, smart fault tree, condition monitoring, and predictive maintenance.
Digital Workforce: Empower the workforce with actionable, augmented intelligence to improve productivity and quality, avoid safety and compliance risks, e.g., paperless manufacturing, safe worker, virtual training, augmented work instructions.
Digital Performance Management: Real-time performance management from the top floor to shop floor to reduce production costs and improve efficiency, e.g., centralized command center, scrap reduction/ parameterized production.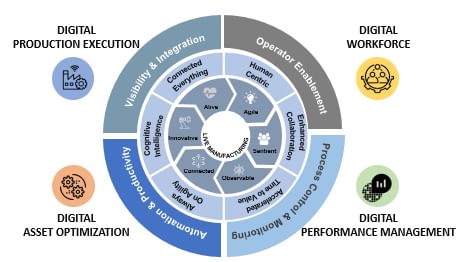 Benefits realized: Harnessing the power of the Industry 4.0 ecosystem through strategic partnerships and solutions with technology players like PTC and Rockwell Automation enables both horizontal and vertical integration. Maximum value is realized through rapid OT-IT integration, seamless collaboration and orchestration across ecosystem players, and a proven framework to scale and deploy solutions repeatably.
Increased asset efficiency and better utilization with lower downtime
Reduction in manufacturing costs
Accelerated time to market
Enhanced quality and assured compliance
Minimized risk, ensure health and safety standards
Agile and flexible manufacturing
Improved worker productivity
Learn more from Infosys in Episode Two of LiveWorx 2021: The Limited Series, airing live April 2nd.
---