The LiveWorx team is thrilled to announce that four-time Grammy Award winner, Keith Urban, will be our 2020 Mix @ 6 host and featured artist! Urban will play a set exclusively for LiveWorx attendees June 10th at the closing party taking place at the Rockland Trust Bank Pavilion. The Rockland Trust Bank Pavilion is located on the Boston Harbor just .5 miles away from the Boston Convention and Exhibition Center.

In the spirit of innovation and constant change, the LiveWorx team took a fresh look at the evening networking activities and re-imagined the closing party. Post-conference surveys have shown that networking is the top reason people choose to attend LiveWorx. We want the networking opportunities to make an impact and allow attendees to make meaningful connections but also have fun and unwind after a long day!

As for our talent, 2020 is already set to be a groundbreaking year of music for the four-time Grammy Award winner. On February 27th he released "God Whispered Your Name," his first single of 2020, and on March 20th he will release "Polaroid" for Australian and European radio (available for stream-only in the United States). In addition, he was named the host for the 2020 Academy of Country Music Awards and received a nomination for the ACM Male Vocalist of the Year. On the stage Urban will feature three distinctive live shows, each with its own production and set list, including fourteen concert events only to be seen at Las Vegas' prestigious Ceasars Palace Colosseum, a European tour this May and fairs and festivals this summer. All set the table for a huge 2020, which will be highlighted by a brand-new album.
As 2020 shapes up to be a career year for Urban, it follows a 2018 (CMA) and 2019 (ACM) that saw him win awards for Entertainer of the Year. 019 also brought to a conclusion a nearly two-year stretch that began with the #1 simultaneous debut (U.S., Canada and Australia) of his 9th studio album, Graffiti U and concluded his critically acclaimed "GRAFFITI U WORLD TOUR," which played to more than a million fans in seven countries on three continents.
Graffiti U follows 2016's RIPCORD, that featured five #1's, including "Blue Ain't Your Color," which won Best Single at the 2017 CMA Awards and Favorite Country Song at the American Music Awards, where he also collected trophies for Favorite Country Album and Favorite Male Country Artist. In addition, it featured his 24th #1 song, "Coming Home" (featuring Julia Michaels).
Urban has had an album simultaneously atop the all-genre charts in the U.S., Canada and Australia twice and is the only male Country artist to have achieved the mark even once. He now stands at #8 on Billboard's All-Time Country Airplay Chart as the artist with the most consecutive top 10 songs on Billboard's Country Airplay Chart (38) – a streak that started in August of 2000.
In 2001, the Country Music Association honored Urban with its Horizon Award; he's one of only a handful to go on to win the CMA's Male Vocalist of the Year, a title he's captured three times, and the coveted Entertainer of the Year, which he's captured twice. The 2015 CMA Awards brought Urban his third win for Vocal Event of the Year for "Raise 'Em Up" featuring Eric Church. It marked the first time in history that an artist has received the award in three consecutive years.
Besides four Grammy Awards, Urban has won thirteen Country Music Association Awards, fifteen Academy of Country Music Awards, four People's Choice Awards and four American Music Awards. He is also a member of the Grand Ole Opry.
Urban's musical virtuosity and fluidity has led to collaborations with a diverse group of artists that include, among others; Alicia Keys, Billy Gibbons, Buddy Guy, Carrie Underwood, Chris Stapleton, Eric Church, John Meyer, Julia Michaels, Justin Timberlake, Miranda Lambert, Nile Rodgers, Post Malone, Taylor Swift, The Rolling Stones and Vince Gill.
He's long supported numerous charities. His "All For The Hall" benefit concerts for the Country Music Hall of Fame and Museum© have raised over $4.2 million. He is the first Ambassador of the CMA Foundation, an advisory board member at the St. Jude's Children's Hospital and is a longtime supporter of The Mr. Holland's Opus Fund and The Grammy Foundation.

Want the opportunity to meet Keith in person? Be sure to register for a DeluX pass before they sell out!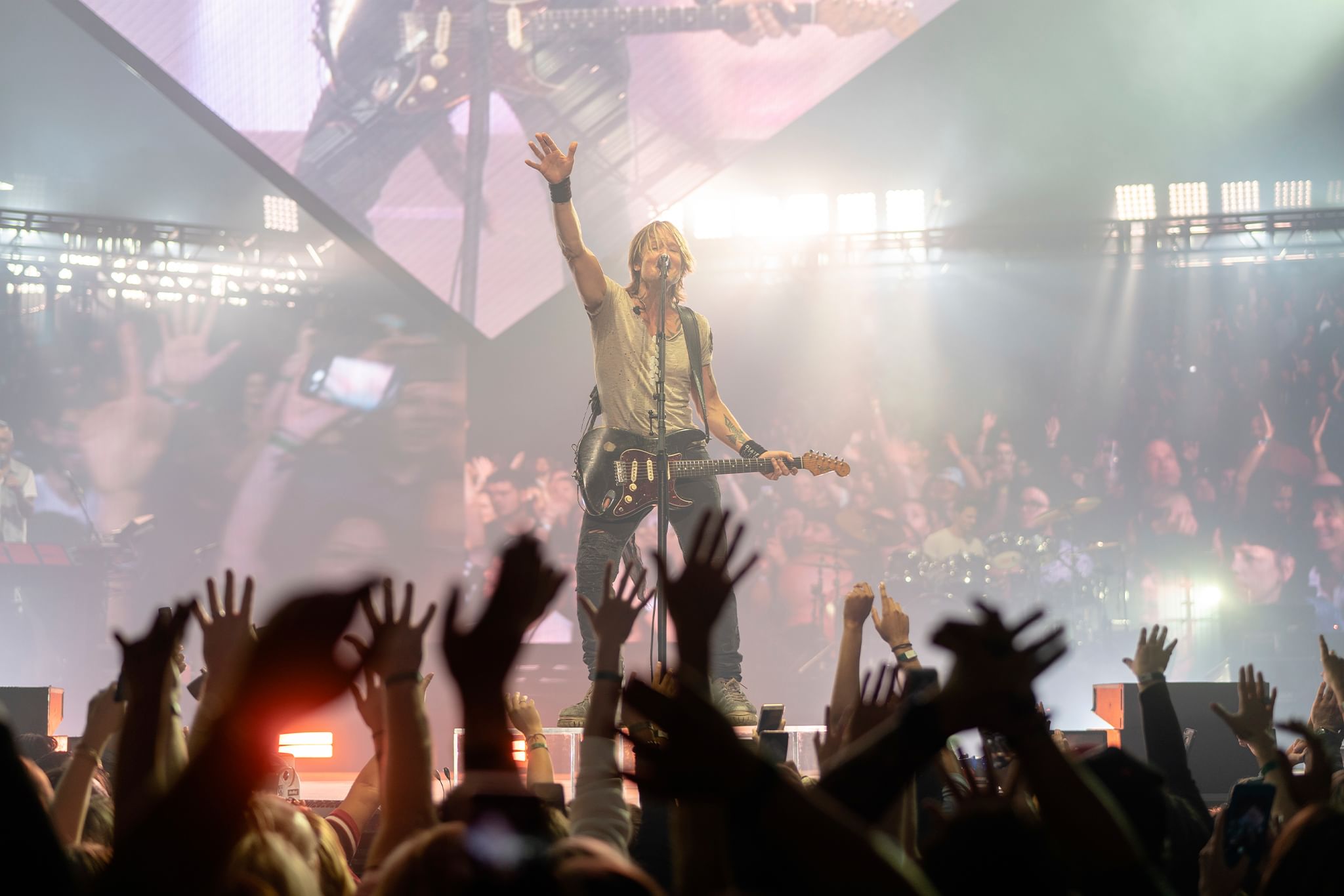 ---