As you prepare to start your journey on LiveWorx 2021: The Limited Series, we want to ensure you are equipped with all the knowledge you need to get the most out of your viewing experience. The following viewing tips will be your guide to navigating the series and can be referenced at your convenience (hint: bookmark this page). Let's start with the basics:

Logging In:
Click Here to log in and visit your Attendee Dashboard to check on upcoming episodes, episode guide, calendar holds, and more. This is your personal information hub for all things LiveWorx.
Click Here on the day of an episode to be brought directly to the virtual platform for viewing.
Email Concierge if you have any questions regarding your account, password, or anything at all!
Watching Live!
On the day of the episode make sure you have your log in credentials ready. Your username will be the email you used when registering, if you forgot your password click here and select "Forgot Password" to have an email sent to you to create a new one.
Once you are logged in, you can access the virtual platform from your Attendee Dashboard or click here for direct access. You are welcome to log in before 10:00 AM EDT (official broadcast start time) and enjoy your morning coffee with some Trivia and a countdown to the live broadcast.
If you are having any trouble with the video player, here are some troubleshooting tips you can try:
You can first try changing your browser.
Check that your software and hardware meet the player's system requirements.
Check that your WiFi connection hasn't dropped. Like any other digital asset, a video is delivered over the internet to browsers. Sometimes, your WiFi (or cellular) connection may drop. After reconnecting, you may need to refresh the browser.
If you continue to have issues, please email concierge@liveworx.com.
Navigating the Virtual Experience: If you are watching episodes live, they will automatically begin in the main video player so that you are viewing the content as it is streamed live. You will have the option to mute or un-mute the audio, control the volume, make the player full screen or picture-in-picture view. Hover over the icons in the video player to explore these options. You will also be able to turn on English captions by clicking on the "CC" icon on the bottom of the video to turn captions on or off.
Live Q&A: You'll have the opportunity to submit questions to PTC guests during Segment Two: Impact of Technology. Simply click the button on the left-hand navigation that says "Ask a PTC Guest" and submit your question. Anyone who submits a question will be entered to win exclusive LiveWorx prizes!
A Word from Our Sponsors! Each episode is sponsored by PTC Partners who have provided additional content tailored especially for our LiveWorx viewers! Just click on the sponsors' information to be taken to their custom material consistent with the theme of the episode: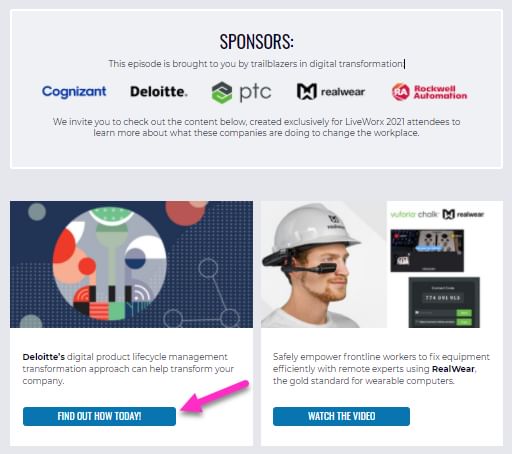 Get Social! Just click on the social icons from the bottom of the Virtual Platform page and join the online conversation. Let us and your ecosystem know your viewing experience with the LiveWorx Limited Series. And don't forget to #LiveWorx in all of your posts!

Watching On-Demand!
If you cannot make the live episode, don't worry! Each episode will be available for on-demand viewing by 1:30 PM EDT and will be available for the rest of the year to view at your convenience. Visit the virtual platform and watch right in the main player or scroll down to the On-Demand section. There you will find any episodes that have previously aired to watch at your convenience.
Chapters: On-Demand episodes will have a chaptered functionality, making it easy for you to toggle between episode segments to consume the content in a way that suits your needs. Chapters can be found on the bottom right of the video player. Each episode is made up of
Segment One: The Spotlight
Segment Two: Impact of Technology
Segment Three: Changing The World
Closed Caption + Translations: On-Demand episodes will be equipped with closed captioning as well. Click on the "CC" icon on the bottom of the video to turn captions on or off. Roughly one week after an episode airs, closed captions will be available in the following languages: Japanese, Chinese, Korean, and German.
What's Next?
You can continue to visit the virtual platform at any time to see which episodes are coming up next or to re-watch episodes. Under the section "The Series" you can learn more about upcoming episodes and save the date on your calendar.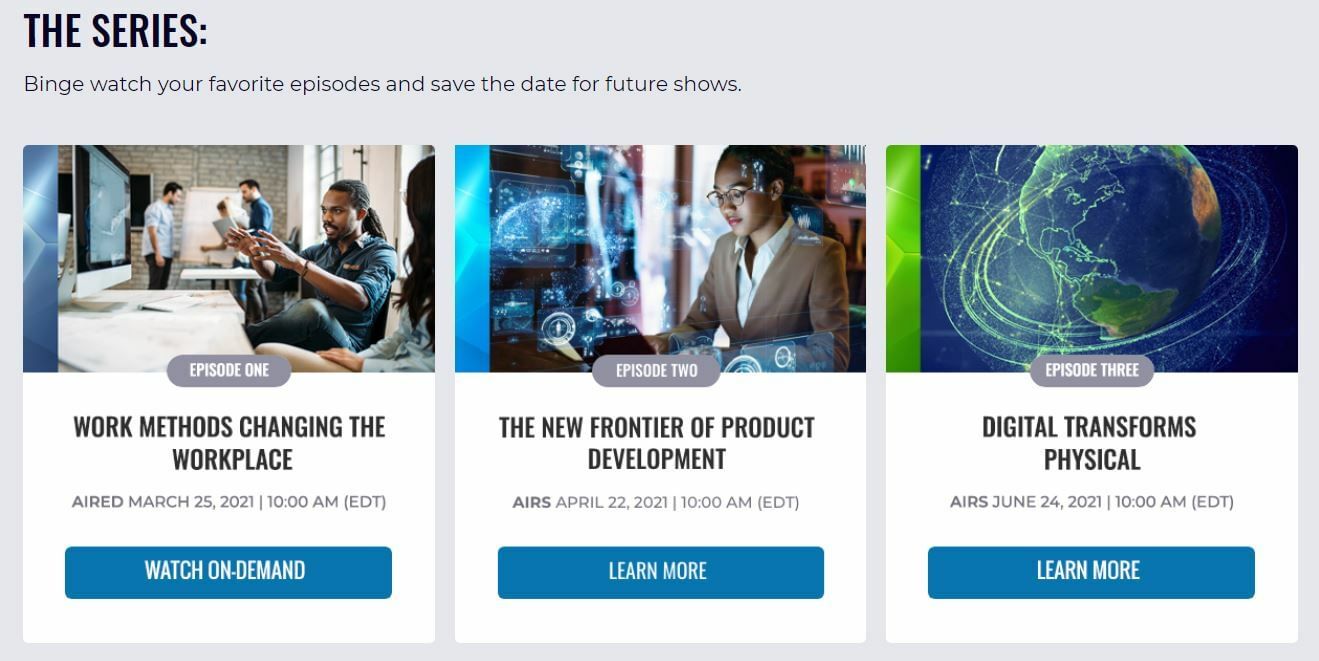 From here there are a couple of ways to keep track of your upcoming episodes.
To add to your personal or work calendar:
Visit your Attendee Dashboard.
View the "Your Episodes" section.
If you do not see the episode in this section – Click on "Click here if you would like to add more episode".
Then select the episode you want to add to your account.
Once added you will see the option to download a calendar hold under the "Add to Calendar" Section.

We hope these tips & tricks will serve as a helpful reference on the live episode date(s). For more detail, we encourage you to visit the FAQ page or to reach out to the LiveWorx team directly.
---