The SkyGuardian touched down at LiveWorx providing real life examples of utilizing AR and IIOT in the field. As these extended range aircrafts can be operated for as much as 21 hours a day, it is crucial that they are running at optimal performance, and the turn around maintenance time is minimized.
With the use of a tablet, we were able to see how to quickly get a non-mission capable aircraft (NMC) to mission capable (MC). Starting up the maintenance management system, powered by ThingWorx, it is possible to see that one of the aircrafts is NMC. It also provides information and data on the aircraft, as well as notifying that it needs a preflight inspection as well as an oil replenishment. Using model tracking, the technician is able to lock onto the aircraft and position sensor, getting procedural guidance and warnings around the aircraft.
While walking through the flight check, it is possible to leave notes, and even have the ability to "phone home" with Vuforia Chalk. This allows you to connect with your support crew virtually and for them to see what you are seeing in the field. It is also possible to get this session recorded. With the use of Augmented Reality, it allows the technician to see what might be behind panels, or where their view is obstructed. There even is the ability to virtually extract the tank to look more in detail as to what may be going on behind the scenes. Communication with the sensors show that the oil needs to be filled. Vuforia provides a step by step instruction on how to be able to fill this. Once this is done and the preflight check is completed, there is a summary list where you can provide additional feedback. Closing this out is clear that the aircraft is now MC in the in the maintenance management system.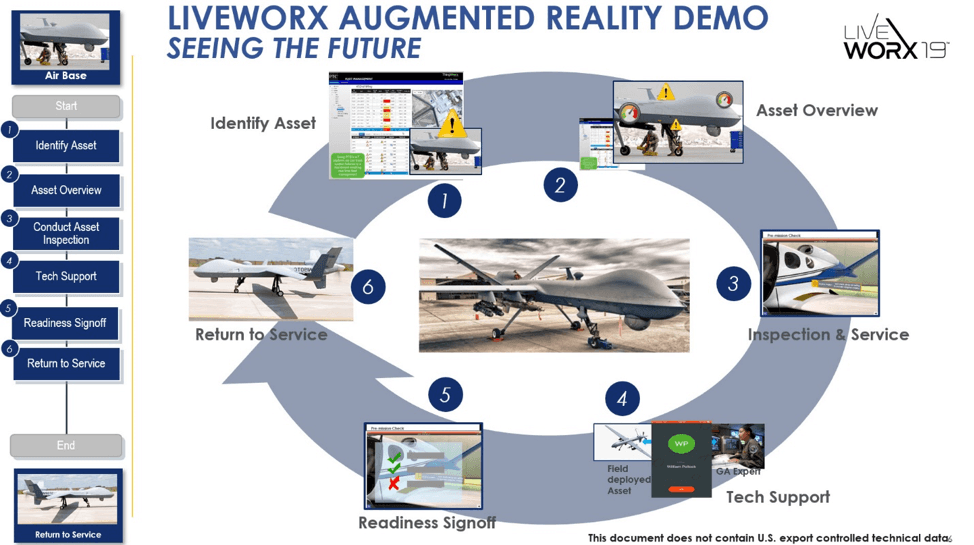 ---