Download the new and improved LiveWorx '20 mobile app today and start planning your virtual event experience! It's easy, simply:
Search and Download "LiveWorx" in the App Store for iPhone or iPad or Google Play Store
Enter your existing LiveWorx credentials (email & password) that you used to register for the event with and tap "Login"
Start exploring the app!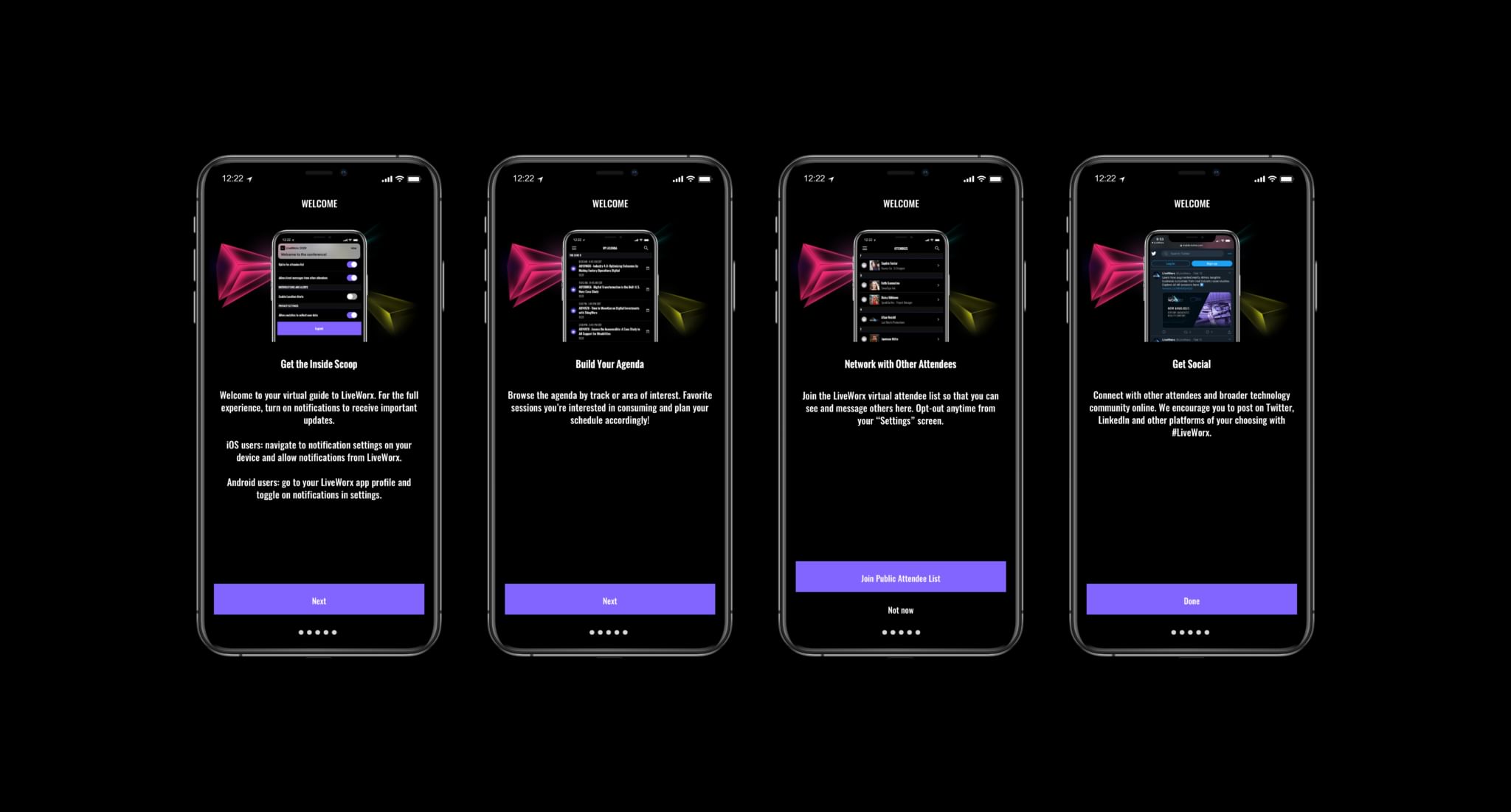 When the app is downloaded, you'll see the onboarding screens, which will introduce you to some of the features and options to:
Opt-in to Alerts (enables app messaging & notifications)
Join the Public Attendee List so you can see and be seen by other attendees.
Please note, more robust networking opportunities will be available in the LiveWorx digital event page on the day of! Click on Attendee Messaging in the Discover LiveWorx section of the app to learn more.
The app also includes functionality for:
Notifications:

Opt-in to receive push notifications and receive timely and relevant information throughout the event.
You can change your preferences at any time through the app or device settings.

Schedule + My Sessions:

View the full list of content offerings in the Schedule area of the app.
You can favorite a session by pressing the star icon on the left side.
Any sessions you've favorited (either in the app or content catalog) will map over into the My Sessions area of the app.
All livestream keynotes with set times are accented with a purple bar so they are easier to see in the app.
Filtering capabilities are the same as within the Session Catalog.

Discover LiveWorx/ Featured Presenters

Click Discover LiveWorx in the menu of the app and view some of the call outs featured at this year's event!
Click Featured Presenters in the menu of the app and view some of the amazing livestream presenters. Be sure to favorite their sessions!
We encourage you to download and set up the app before LiveWorx begins so you're set and ready to go on June 9th! If you need assistance, please don't hesitate to reach out!

---