The LiveWorx 2023 Session Catalog is now live! For those of you who have attended LiveWorx in the past, you may have noticed that the catalog has been upgraded with a new and improved look this year. We're very excited about the changes we've made and want to share some helpful tips on how to get the most out of the catalog.
New Viewing Options This year you have two unique options for viewing the catalog: a grid view or a list view. The grid view has sessions color coded by type and the list view is slightly more consolidated. You can flip between the two using the toggle button on the top right of the catalog.


Don't Forget to Log In! In order to get the most out of the catalog, you need to be logged in to it. This will allow you to save your favorite sessions to reference in both the mobile app and once session dates and times are live. You must be registered for LiveWorx in order to log in. Once you are registered, click the "Sign In" button on the top right of the catalog and enter the same email and password you used to register. If you are registered, you can also begin booking your complimentary training and UX Lab sessions.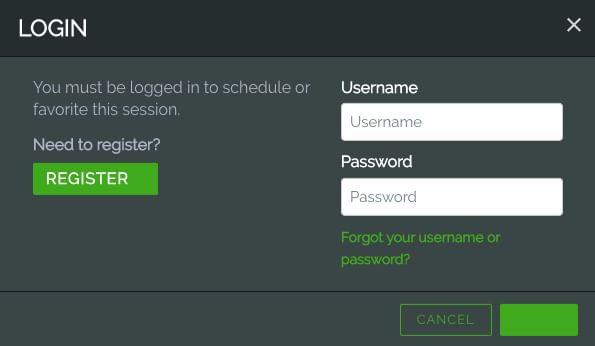 With over 150 sessions published in the catalog (and more to come!), you're going to want to drill down to topics that meet your specific interests and learning objectives. There are a few different ways you can do that. In the left-hand navigation, you can filter on a variety of session elements:
Track: Drill down to one (or multiple) of the 7 content tracks available at this year's event
Topic: Make a selection out of 50+ topics across technologies, industries, and business cases related to digital transformation
Type: Choose sessions based on your preferred content delivery type. Zero in on premier "Track Spotlight" sessions, learn from a successful implementation of a practice, product, system or service with a "Case Study," or get to the heart of our theater-style traditional presentations with a "Breakout Session," among others
Industry: We have 9 industries to choose from along with "Applicable to All"
Content Level: Understand the experience level required for various sessions, with options from "Applicable to All" through "Advanced/Expert"
PTC Product: Product-specific sessions and trainings will be easy to find with this filter, as well as sessions that do not touch on PTC products at all
Audience Profile: Find sessions applicable to your specific job title using this filter with 19 different roles represented
Business Impact: Narrow session selections based on the content most relevant to your business needs and desired outcomes

There are a few different ways you can clear a filter:
Scroll to the top of the catalog and click the "X" button on the filter that is currently being used
Click on the "Clear" link to the right of the "Filters" section title
Uncheck the filter that is currently checked

Learn More About a Session Each session card only includes a preview of the session. The preview displays the session ID, title, the first few lines of an abstract, and the presenters' headshots for each session. To learn more about the session details (key takeaways, type, track, topic(s), content level, PTC product, industry, and audience profile), click "Learn More" on the session listing. Or, if you are in the list view, click on the session title for more detail.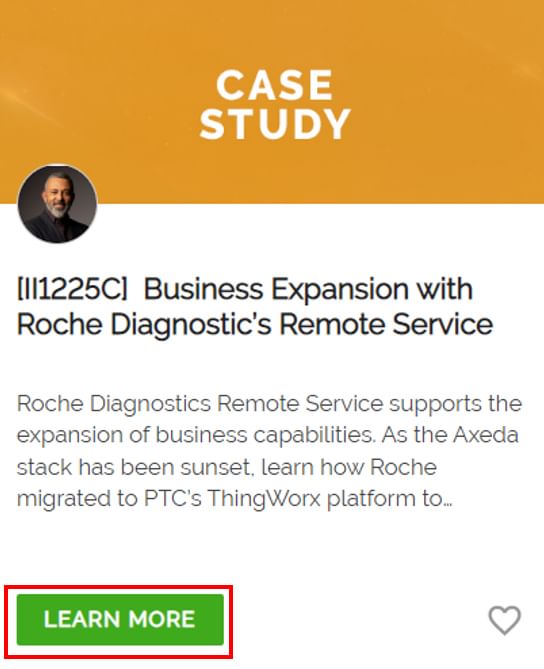 Saving a Favorite Session The LiveWorx session schedule and corresponding attendee scheduling tool will launch in March. In the meantime, you'll want to add sessions to your "Favorites" list so you'll know exactly which ones you'd like to add to your schedule when the time comes.
Important to note: You can only save sessions to your favorites list or add a training or UX lab to your profile if you are registered for LiveWorx (which you can do here if you are not already registered). To add a session to your "Favorites" list, click the heart symbol on the top right of the session listing: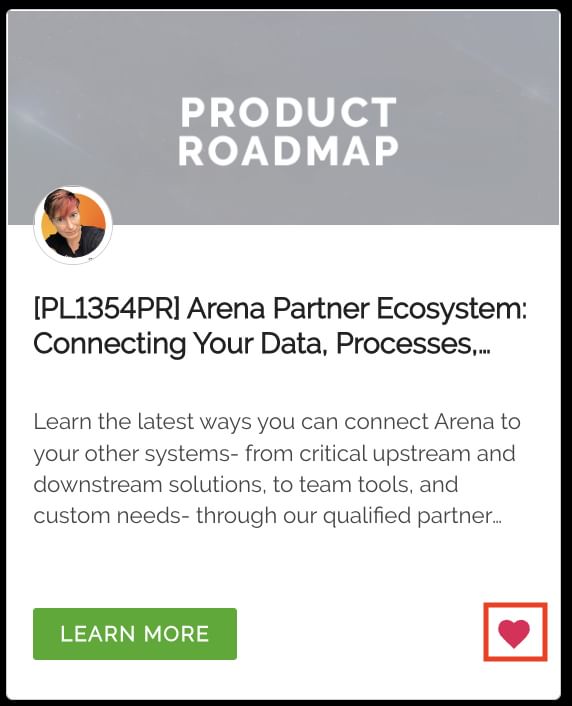 If you are not logged in to the session catalog, it will prompt you to log in with the email address and password you used to register.
Reserving a Training or UX Lab If you are registered for an in-person all access pass you will be able to reserve your seat in a training or UX Lab, included in the cost of your ticket! Rather than hitting the favorite heart, select "Add to Schedule". Please only add trainings and labs to your schedule that you are committed to attend as space is limited.
Catalog Search The catalog's search functionality looks through all session and presenter information. Want to find a session on additive manufacturing? You can either select "Additive Manufacturing" in the Topic Filter or enter the phrase in the search bar – both options will pull up all sessions featuring that subject. Perhaps you want to see if there are any presenters from a well-known company in your industry? You can either choose that industry in the "Industry" filter and browse sessions that way or search a specific company name in the search bar.
Presenter Information We've got an incredible lineup of presenters for LiveWorx this year. Don't just take our word for it – see for yourself! Every session lists the presenter's names, job title, and company.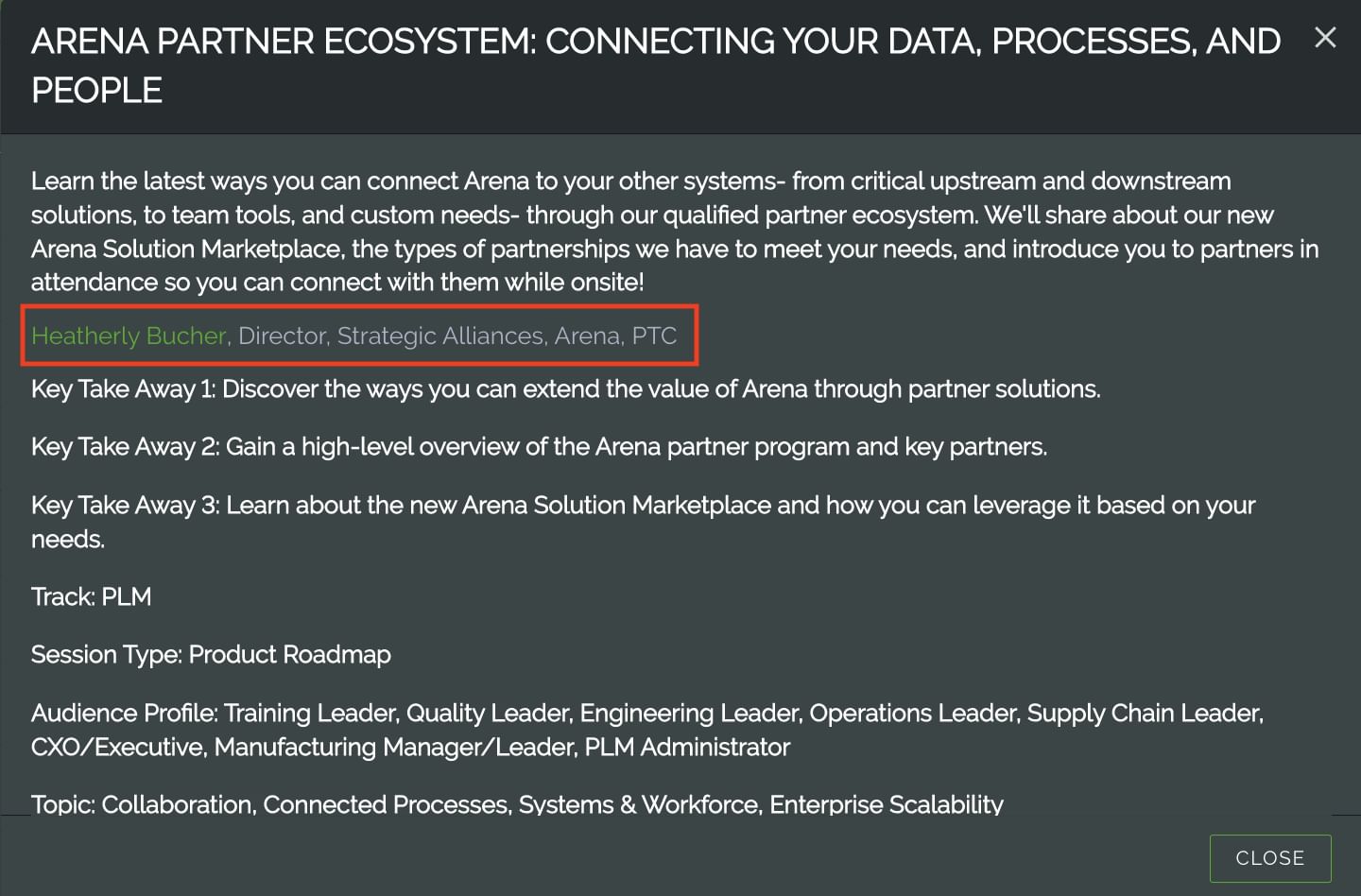 To learn more about a presenter, click on their name to view their headshot, bio, and see if they are speaking on any additional sessions.


There are two locations where you can view a list of all LiveWorx presenters. The Content Catalog includes a "Speaker Catalog" tab at the top. Select this tab to view all presenters and click on each presenter's name to view their bio, headshot, and any additional sessions they are speaking in. You can also view a list of all presenters on the presenter's page of the LiveWorx website.
Happy browsing! We look forward to bringing these presenters and sessions to you on the LiveWorx stage in May. If you have any questions, please contact us here.