"In digital transformation there's an emphasis on business outcomes, but ultimately you have to have empathy and purpose," says Chad Markle, global commercial lead for Kalypso: A Rockwell Automation Business.
Markle and his team at Kalypso work with executives to achieve digital transformation of the value chain — from the product, to the plant, to the end user.
During a recent interview at LiveWorx in Boston, Markle said that the focus on the end-user is one of the most important pieces of any digital transformation.
"There are human beings who are interacting in these systems and driving the value in the change, so we think it's really essential to get into the personas that we're working with and understand how exactly they will use technology and solutions, as well as the jobs to be done."
LiveWorx is a four-day annual technology event focused on bringing a new era of product lifecycle innovation to life. Kalypso and Rockwell Automation were Pinnacle sponsors of the event, and Kalypso was also named PTC's Digital Manufacturing and APAC - System Integrator Partner of the Year for 2023.
Getting "better human outcomes" as Kalypso calls it, relies on connecting siloed areas of the business. Markle points out that information technology and operational technology have lived as separate environments for too long, and have not cooperated as much as they needed to.
That's changing.
"The power of information technology to bring insights and data together with operational technology is the center point," he says. "That's what's going to unlock human potential and the connected enterprise."
The connected enterprise comes to life with a digital thread, Markle says, which connects resources with teams and information necessary to overcome their most difficult challenges.

Exploring a sustainable digital thread
Getting better human outcomes also means better outcomes for humanity, and Kalypso is focused on doing that by helping companies deliver better care and safer working environments, while also conserving natural resources and energy.
The company is achieving that using a digital thread strategy.
The digital thread is a seamless flow of data that connects business processes, systems, products and equipment across the value chain to drive significant value.
As leaders are increasingly turning their focus to meeting environmental, social, and corporate governance (ESG) goals, Kalypso says a digital thread offers an opportunity for companies to explore more efficient operations while also meeting those targets.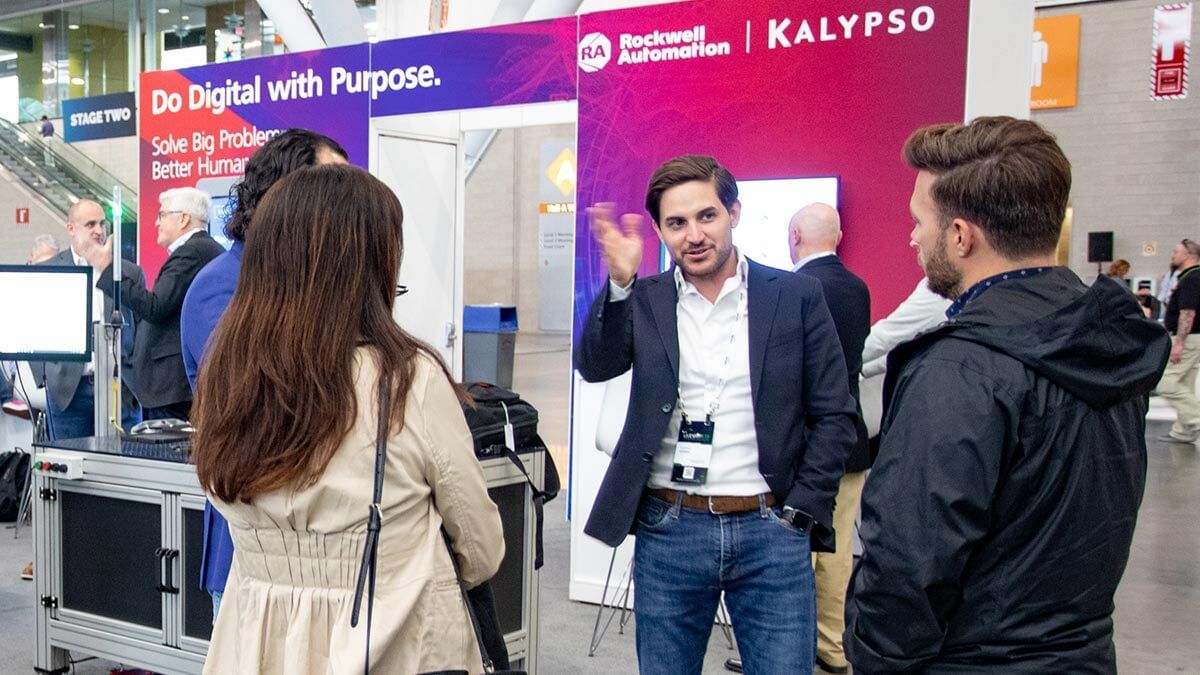 At LiveWorx, the company pointed out that organizations often have targets defined but lack plans to operationalize. The most insightful starting point, Kalypso says, is to meter and monitor resource consumption and emissions.
"The understanding of how exactly your organization is running together with the energy, or the other natural resources being consumed are important to fine-tune and balance," Markle says. "We're leveraging the PTC ThingWorx platform with a solution that we have called Sustainability Energy Manager to better understand exactly what's going on in operations."
More than 50% of the world's energy sources are consumed by production sectors, Kalypso says, and it's often an under-explored component of resource optimization.
A sustainable digital thread can apply to companies that are years into a sustainability journey, or others who are just starting out to build a foundation by establishing connectivity in manufacturing lines.
To find that insightful starting point, Markle and his teams often look for areas within a manufacturing facility that can operate more sustainably. Think: identifying when engines may be idling unnecessarily and can be shut down, for example, or even identifying engines that may be operating inefficiently.
"If we can correlate those, we can take better actions in real-time and get more granular," he says. "It's a pretty important endeavor that we're happy to be behind."
In an article on its Viewpoints blog, Kalypso points to an automotive industry example where a company discovered it was using 40% of its energy from equipment even while nothing was being produced.
"We've got some pretty big challenges as a civilization," he says. "We've got climate change; an energy shift where we're transitioning to different energy sources; we have issues and challenges with geopolitical instability; and we have challenges with the supply chain. That purpose and being centered around great outcomes for humanity is important."

---
View On-Demand LiveWorx Content