LiveWorx 2021 is a wrap. Each of the episodes, including PTC President and CEO Jim Heppelmann's keynote Digital Transforms Physical, are available for on-demand viewing here through September 30.
The LiveWorx team is hard at work planning exciting things to come, but there is still plenty going on in the greater PTC community that LiveWorx attendees will find worth their time.
The PTC Global Partner Summit, taking place on Tuesday, July 20 is a prime example and will be especially helpful for those who work with PTC products daily.
Here's a quick preview.
This year's Global Partner Summit (GPS) will be a virtual event that is broadcast live from PTC headquarters in Boston, just like LiveWorx Episode Three in June.
The summit will feature four PTC executives delivering keynotes providing strategic direction to the partner network. During those presentations, viewers will learn about use cases that have a proven track record of success as well as PTC's transition to SaaS and how that positions the partner ecosystem for growth.
The Global Partner Summit keynote, titled Change Your Future, will begin at 10 a.m. EDT. Speakers are:
Jim Heppelmann, PTC President and CEO
Troy Richardson, PTC EVP and COO
John Gray, DVP PTC Partner Network
Cherie Gartner, PTC SVP, Go-To-Market Strategy and Global Head of Strategic Alliances
Along with the keynotes, GPS will spotlight PTC's Partner Award Winners and their achievements in successfully bringing digital transformation to life.
This year's recipients are drawn from several different areas, including customer success, innovation in deployments, bottom-line results and partner collaboration. It's a great opportunity to see concrete examples of how PTC technology has worked in action and hear from the people who made it happen.
But wait, there's more!
In addition to the live morning keynotes from PTC executives and Partner Award Winners segment, viewers will also get the chance to dive into a variety of on-demand sessions during the afternoon.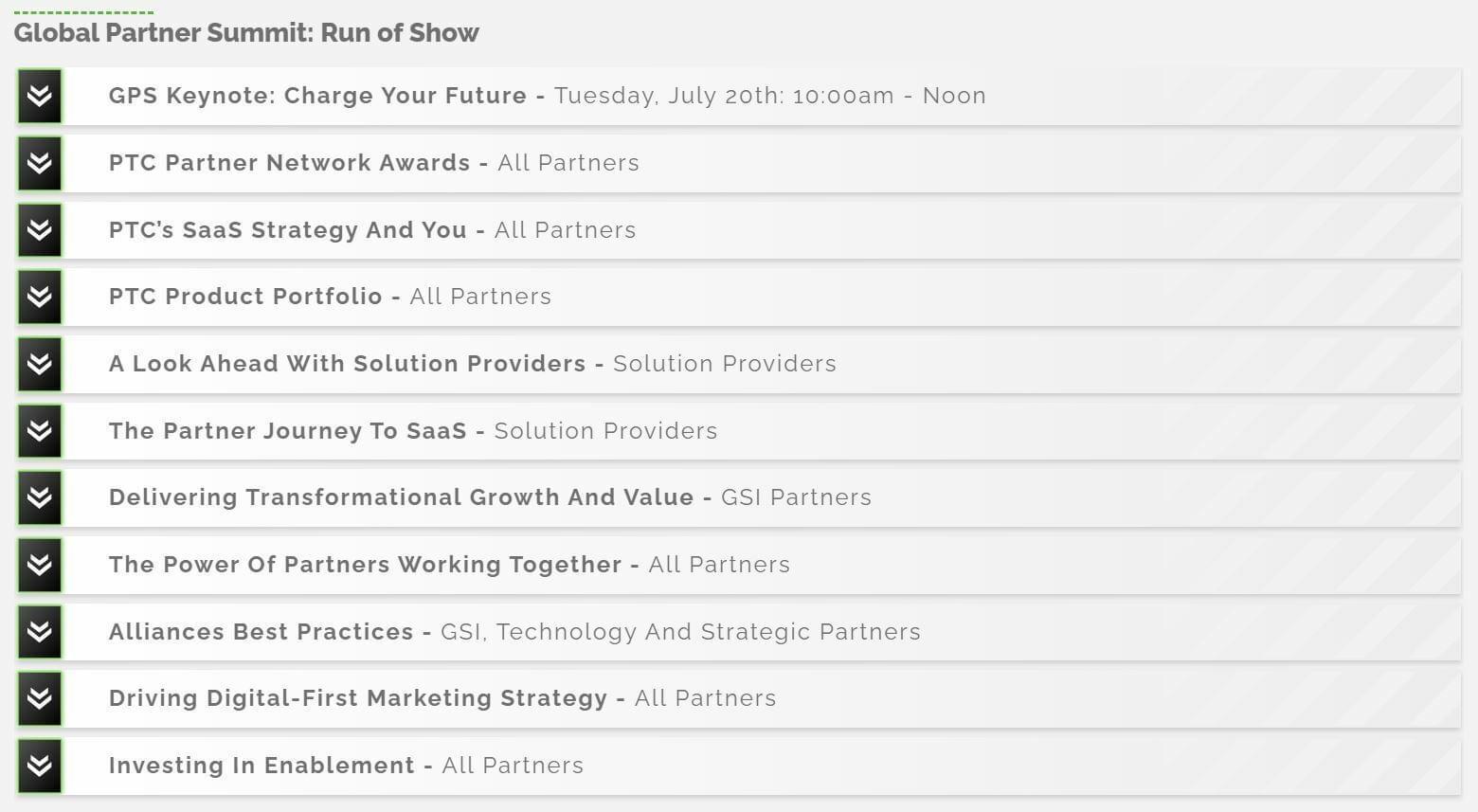 From solutions providers to global system integrators to technology partners, GPS will have content tailored to each part of the PTC ecosystem, all of which is designed to provide them with comprehensive competitive intelligence. To see the full virtual event schedule, click here.
Digital transformation offers enterprises a path to catalyze rapid growth and achieve global scale. The Global Partner Summit is a unique chance to learn from PTC leaders, discuss practical digital transformation challenges, discover how PTC partners have surmounted them, gain insight into global technology success stories and hear how people who turn those ideas into real results.
Reserve your spot to attend GPS on July 20 here.